Waste tire to fuel oil pyrolysis plant
Date:2018-04-23 19:45:42 / Pyrolysis Plant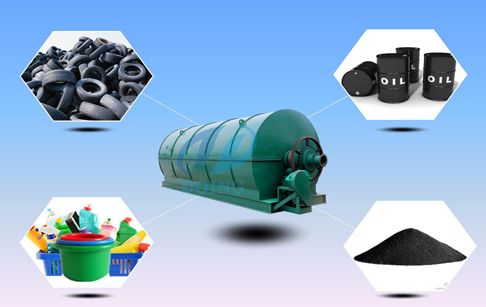 Waste tire pyrolysis plant to fuel oil

According to statistics, 6 million tons of scrap tires are produced each year in the United States and Japan. With the development of automobile-related industries, the number of used tires in the world is increasing every year! At the same time, the disposal of used tires has become a serious social problem. Faced with this serious social problem, the waste tire to fuel oil pyrolysis plant developed by DoingGroup can effectively treat these waste tires using the pyrolysis principle and crack them into pyrolysis oil, carbon black, steel wire, combustible gas.
Specific working process of waste tire to fuel oil pyrolysis plant:
Waste tire pyrolysis plant to fuel oil working process
1. Feed the waste tires into the reactor through a fully automatic feeder. The reactor should leave 1/3 of the space for smoother rotation. Then make sure the feeder door is closed.
2. The reactor is lightly heated by burning fuel (coal, wood, gas, or the last batch of produced tire oil). When the temperature reaches 100°C (250-280°C is the highest output rate interval), oil and gas will be released. The separated heavy oil gas from the manifold should be liquefied and dropped into a heavy tank. Lighter gas will rise to the oil condenser, liquefy into oil and store it in the tank. The non-condensable gas after dedusting by distillation and steam removal will be introduced into the recovery furnace.
3. After all fuel is generated, the reactor should be cooled. When the temperature drops 40 degrees, carbon black will be automatically discharged. If the raw material is the entire tire, remove the wire from the reactor with a hook of at least than 50 degrees Celsius.
4. There may be a little exhaust gas, please discharge it after reaching the discharge standard.
5. Before starting the next batch, make sure all the work is done.

Once this tire pyrolysis process is completed, the final product includes steel wire, carbon black and tire pyrolysis oil. This pyrolysis oil is commonly used in industrial fuel materials for combustion only and even for further refining the product into diesel fuel with DOING waste oil distillation machine. Specific uses are as follows: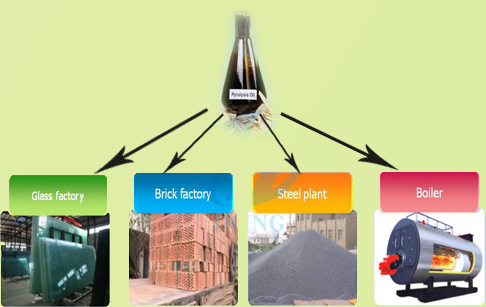 Fuel oil usage


1. Fuel oil: Used in steel plants, boiler heating, heavy oil generators, cement plants.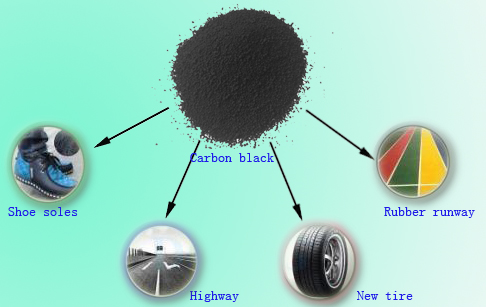 Carbon black usage


2. Carbon black: Used for pressure ball combustion, or refined milling, which can be used as a new tire, rubber soles, pigment manufacturing materials.
3. Steel wire: It is mainly used for recycling or remelting.
4. Combustible gas: It will be recycled by the waste tire to fuel oil pyrolysis plant again, used for the heating material of the reactor, and it will save energy and reduce emissions.

DoingGroup's waste tire to fuel oil pyrolysis plant has the following advantages: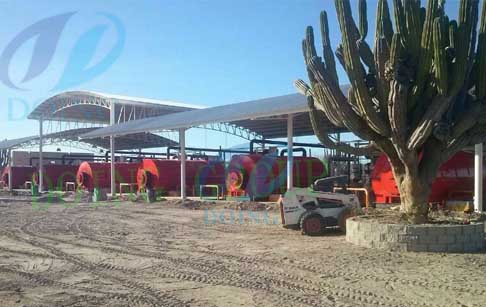 DoingGroup's waste tire to fuel oil pyrolysis plant


Safety:
1. Automatic welding, improve work efficiency, ensure quality of waste tire to fuel oil pyrolysis plant, avoid accidents.
2. Special design to avoid paper jam caused by X-ray inspection and ensure safe operation.
3. The vacuum system ensures that the entire production line runs well.

Environmental protection:
1. Dust removal and sulfur removal system to remove smoke and sulfur.
2. Exhaust gas (including methane to butane) will be directly recycled to the fuel furnace without gas pollution.

High oil yield:
Three cooling processes ensure that the oil and gas are fully liquefied.
2. The catalyst chamber ensures complete pyrolysis of the feedstock.

Long lasting:
1. Special boiler plate: Q245R with a thickness of 16mm.
2. Automatic welding ensures the service life of the waste tire to fuel oil pyrolysis plant and the service life will reach 8-10 years.

Energy saving:
1. The heating system of waste tire to fuel oil pyrolysis plant is well-sealed, airtight, and fuel-efficient.
2. Exhaust gas will be recycled for reactor heating.

Good after-sales service:
1. Overseas tour guides install and train customer staff and try to run.
2. One year warranty.

At present, the technology of waste tire to fuel oil pyrolysis plant is very mature, but the market is not fully developed, so the market has broad prospects and is the best choice for your investment!