Waste plastic to diesel fuel plant
Date:2015-12-17 17:25:27 / Pyrolysis machine FAQ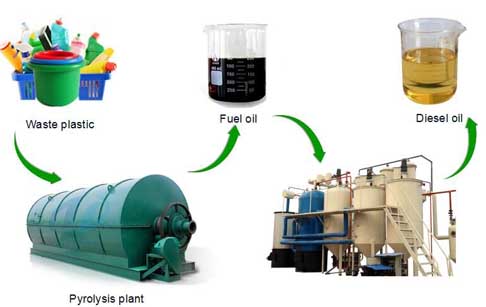 Waste plastic to diesel fuel plant


Plastic to diesel fuel plant for sale adopts advanced oil distillation technology, which can convert plastic pyrolysis oil into high quality diesel fuel. And this kind of diesel oil can be widely used in low speed engines and generators.

In general, plastic into diesel conversion needs two processes: pyrolysis and distillation process. The first stage, we need to get pyrolysis oil from waste plastic by using pyrolysis plant; The second stage, plastic to diesel machine can further refine plastic oil into high quality diesel fue

The detailed plastic to diesel process is described as follows: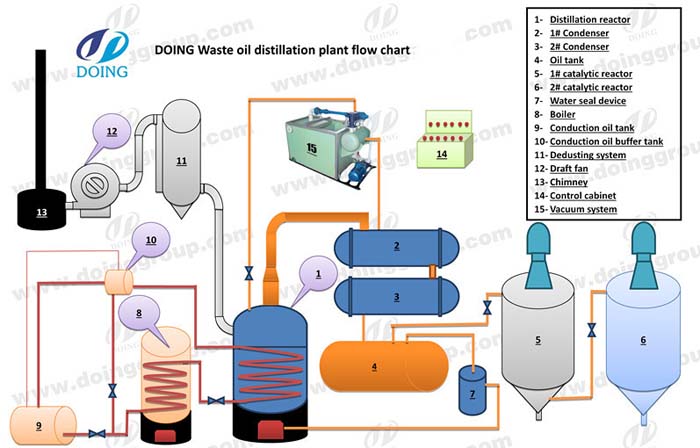 Waste plastic to diesel fuel plant working process

Feeding the plastic oil into the reactor by oil pump, and fire the fuel in the chamber. The oil gas will go through the fractionating tower and then goes into the oil condenser to be liquefied into diesel , then transport the diesel to the pickling tank and alkaline tank to improve the quality of the diesel oil. Meanwhile, the vacuum generator making the whole system in vacuum environment to ensure the process is safe. The syngas will be recycled to heat the reactor after desulfuration and purification by the hydroseal, which also can prevent the fire go back.
Plastic to diesel fuel plant has the following advantages:

(1) All the equipment are certified by CE, SGS and ISO.

(2) Latest double vertical tubular condensers, 56 cooling pipes in each condenser, more cooling area, more effective cooling effect, higher oil yield.

(3) Equipped with safety valves, auto alarming system, anti-explosion valve, which will guarantee 100% safety.

(4) Flue tube condenser, cool down the exhaust gas from the burner, protect draft fan and improve dedusting effects.

(5) Adopts Three-layer dedusting system to cleanse the exhaust gas to reach European pollution control standards.

(6) Automatic submerged welding technology, ultrasonic
Diesel application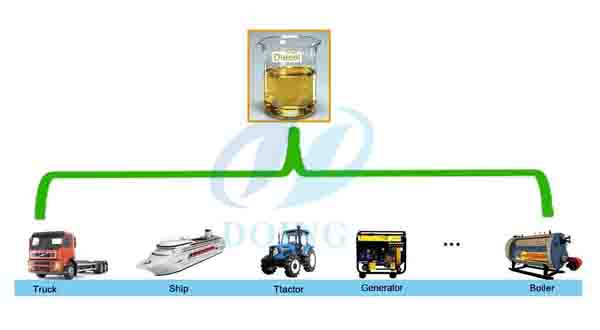 Diesel fuel application

Save