Waste tire recycling equipment
Date:2013-06-20 21:47:27 / Pyrolysis Plant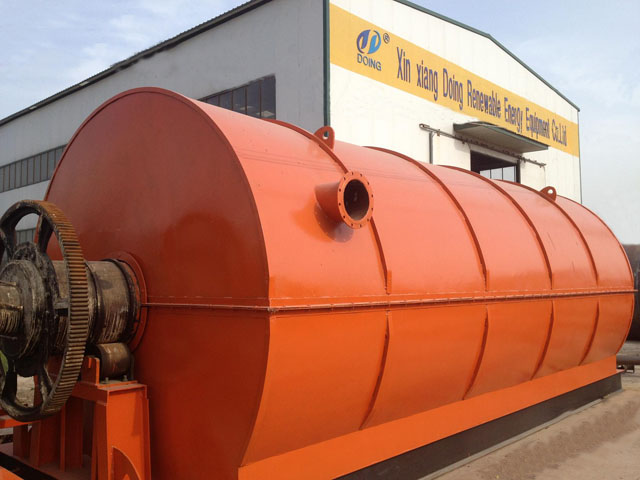 Waste tire recycling equipment
The waste tire recycling equipment can pyrolysis waste tires,waste rubber and waste plastic,processing fuel oil,crude carbon black and steel wires without pollution.
Feature of waste tire recycling equipment:

Waste tire recycling equipment

1. 100% waste tire recycling is achieved (no churn left after the process).
2. No chemical ingredients are used in process (environment friendly).
3. During and after the process; no soil, water or air pollution is observed.
4. Creates economically valuable products out of waste (all of the products are industrial raw materials that have a market value)
5. The most cost-effective waste tyre recycling technology in the world.
6. Raw material (waste tyre) is cheap and easy to provide. These are the by-products of tyre production.
7. Each recycled ton of tyre preserves 10 tons of CO2 that is a major greenhouse gas.
8. The system creates an alternative source of energy to replace petroleum products and natural gas.
9. The process can be applied to all rubber based materials.
10. System prevents the spread of diseases caused by waste tyres.
11. System gives the opportunity to governments and local administrations to deal with the waste tyre problem to a great extent.
12. We deliver plants with capacities of 5 ton /day & 10 ton/day and its multiples.
The process of Pyrolysis has duration of 4 to 12 hours, depending on the amount and type of tyre (car tyre, truck tyre, etc.). During the process different vacuum values are applied in pre-determined temperatures and in different phases different gases are obtained and the condensed gas is stored as fuel-oil in tanks.
Application of the end products :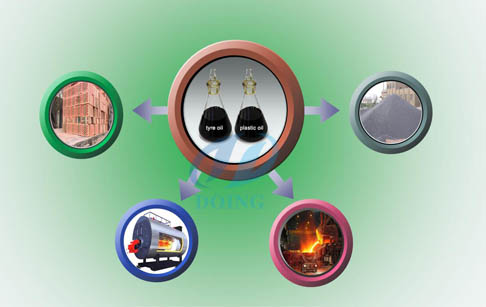 Fuel oil application

The fuel oil from the waste tire recycling equipment can be used for heating. For example, it can used in power plant factory,glass factory cement factory ,ceramic factory, aluminum factory,boiler factory,central heating factory ,painting factory,etc.The carbon black from the waste tire recycling equipment can used in electric cable jacketing ,conveyor ban,hose and door mat black nylon bag ,automatic spare parts and so on .the steel from the waste tire refining machine can sell directly



As we all know, this is a special field, high profit and high risk. So, when you choose a supplier, security will be the most important thing.Besides, security, technology, quality and oil refining experience are also very important. Since this is a new field, so, no exact rules. In this way, experiences and technology will be the key point. As for the quality, it should be worth of your cost.