Where we can use about waste tyre oil, plastic oil and rubber oil?
Date:2013-12-25 21:27:30 / Pyrolysis machine FAQ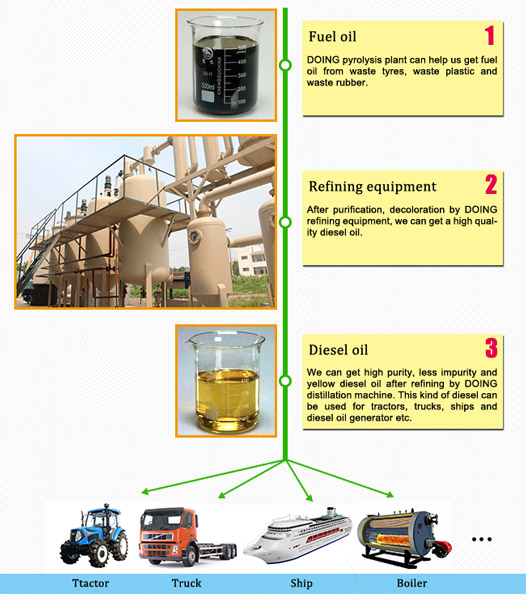 usage range of waste tyre oil, plastic oil and rubber oil
We can get useful energy –tyre oil, plastic oil, rubber oil and carbon black by waste pyrolysis plant.
Plastic oil, tyre oil and rubber oil can be as a fuel used for a widely range such as hotels, restaurants, bathing centers, besides, there are some heavy industries , such as steel mills, cement plants, brick factory, glass making factory and boiler plants etc.
In addition, we can also can get a high quality diesel oil through our oil distillation refining machine after desulfurization, odor color, etc. This kind of diesel can used for tractors, trucks, ships and generator power and so on.
DOING Group with a principle of " simple, efficient, energy saving, environmental protection", optimized for different designs and developed a series of investment scale pyrolysis machines and distillation machines, take a advantage on waste tyre oil, plastic oil, and diesel oil, "turning waste into treasure, benefits the countries" with advanced technically and feasible, less investment, return quickly and better prospects. DOING pyrolysis machine and distillation machine is your best choose.