Pyrolysis oil from plastic waste ?
Date:2013-06-25 18:39:23 / Pyrolysis machine FAQ
Waste plastic pyrolysis plant

Maybe you are very puzzled to the process of waste plastic pyrolysis plant,now let us explain pyrolysis waste plastic to oil principle to you: The process of pyrolysis oil with waste plastic pyrolysis plant is very scientific. Plastic, also known as polyolefin, which use small molecules olefins of oil, after polymerize through high voltage to become.
Waste plastics are cracked by using depolymerizing agent and cracking with catalyst, and then molecules will transform into small molecules, then into fuel oil.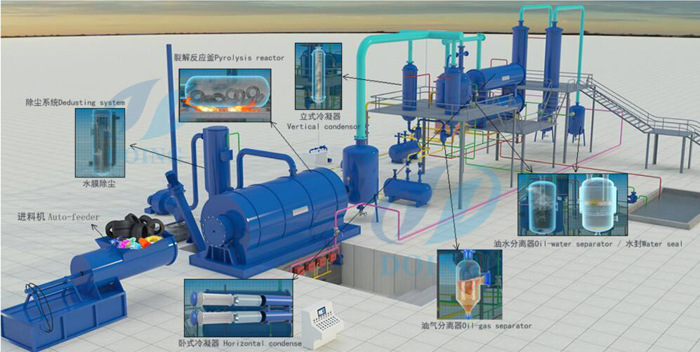 Waste plastic pyrolysis plant pyrolysis waste plastic to fuel oil and carbon black
1. Due to the different composition of waste plastics, the cracking behavior also are not identical. polyethylene (PE), polypropylene (PP) and polystyrene (PS) in the 300- 400 ℃ can almost be decomposed. And polyvinyl chloride (PVC) in the 200-300 ℃ and 300 ℃-400 two period. HCL can be released at the low temperature, then more hydrocarbon. And then further decomposition will be processed in high temperature.

2,Due to the different molecular structure, the composition of pyrolysis products and the recovery is not the same.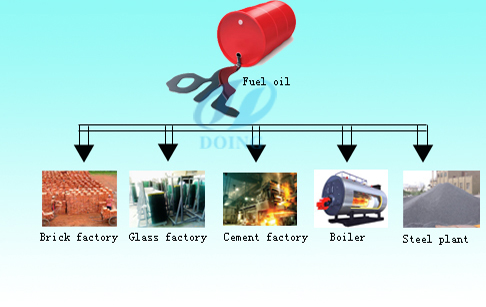 Plastic pyrolysis oil application
1.Fuel Oil (45% to 52%) The main application of oil products produced by our Waste plastic pyrolysis plant is the fuel oil that is wide used for industrial and commercial purposes. Such as power plant factory,glass factory,cement factory,ceramic fatory