Does the pyrolysis of scrap tyre pollution the environment?
Date:2013-06-25 22:28:08 / Pyrolysis machine FAQ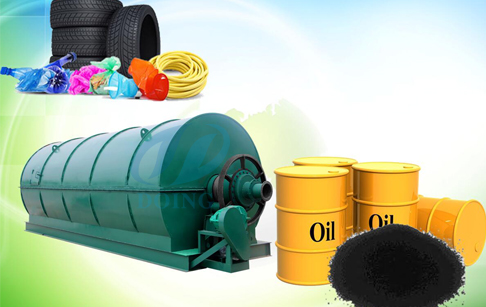 Scrap tyre pyrolysis plant
The process of pyrolysis of scrap tyres helps in saving the environment.
The oil is filtered before being use as the heating oil. The tyre pyrolysis oil is a type of light fuel oil that is a non-viscous liquid.
Burning 1 ton of waste tyres produces about 420 litres of pyrolysis oil, 150 kg of steel wire and 270 kg of carbon black, the damage to the environment is obvious
Performing pyrolysis of scrap tyres saves the environment and gives yield to 3 valuable materials
Pyrolysis gas can be condensed recovering pyrolysis oil The recovered oil usually has specific gravity about 0.93, a sulphur content (1.1%) as well as the residual carbon content
This oil can be further filtered prior to be used mainly as heating oil It is a type of Light Fuel Oil or commonly named LFO Its kinematic viscosity is 2.6 centiStokes (cSt) which makes it a non-viscous liquid