Advantages of 5th G waste tyre pyroloysis machine
Date:2014-02-21 11:18:54 / Pyrolysis Plant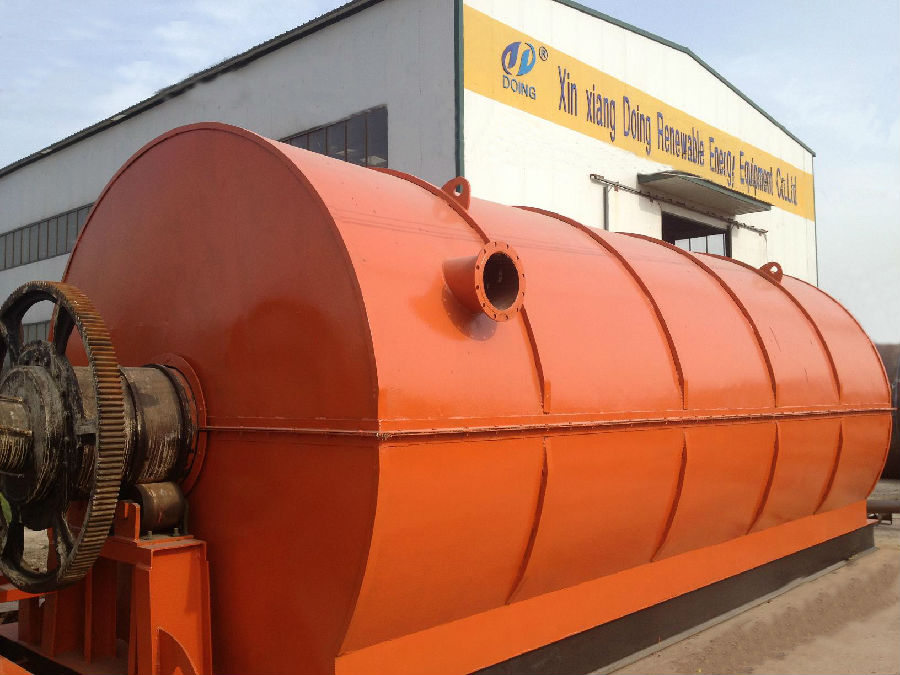 5th G waste tyre pyrolysis machine
5th G waste tyre pyrolysis machine
1. High efficiency 2. Safety 3. Environment Protective 4. Best After-sales Service 5.Certification: CE, SGS, ISO
The Best Solution (Pyrolysis Process)
As a result of pyrolysis of wastage tyres one obtains, Pyrolysis is the decomposition of organic compounds under oxygen free (anaerobic) atmosphere that produces gas, oil, carbon black and steel. Efficient industrial Pyrolysis is a process to treat the rubber and industrial plastic wastage as well.
1. High efficiency
1) High rate of output oil: our reactor has the cotton insulation in the shell, it can improve temperature, making uniform fire, and tire conservation cracking fully, improving the output. In generally, it can achieve about 18 hours a furnace. It can as feeding as working. In large degree increase the output. Our waste tyre pyrolysis machine has higher oil rate, they increase 4% in average. You can get much more high quality oil.
2) Condensing system: We used a horizontal condensation system, can make the decomposed gas more and better into the liquid, and the cooling area increases, the liquid flows slowly, so more oil will precipitate particles, thereby improving the oil yield and the quality of oil.
3) Full automation: the advanced device, with a small forklift, conveyor and automatic feeding machine. Equipment can feed, slagging, alarm, decompress, adjust negative pressure and exhaust recycling, the whole process is the automatic mature technology: oil refining is a special industry(high-profit and high-risk ),technology is the key, we are engaged in oil refining for many years and have rich experiences to ensure safety and oil yield as well as recovery.
2. Safety
1) The waste gas produced during the process is alkyl from C1 to C4, which is dangerous when burning directly. In our process, it is firstly transferred through waste gas recycle system and a safe device spray gun. Before burning, we should ensure the safety of production.
2) Pressure gauge, alarming device and safety valve.
3. Environment Protective
Dispose waste gas, liquid, and residua in the process:
1) Waste gas: Transferred through two safety device: water close burning air nozzle. Fully burnt, not only eliminated pollutant but also minimized the quantity of fuels. For smoke dust discharge, we apply series machines of ZTC Desulphurization and dust remover which could control the smoke dust discharge amount meet relative standards of GB-2001.
2) Waste liquid: Produced waste acidic water in the process of oil disposing (50kg process from 1 ton of oil easy to process for small quantity). Counteract the liquid by alkalescent liquid solution. After three stage of filtration, the litmus less waste water was introduced to evaporator (use the heat of the flue of main processor as its heating resource)
3) Waste solid: The residua left after the catalyst splitting of tyre is black carbon. No waste is solid exist.
4. Best Sales Service:
Pre service:
We can offer the all detailed information of our products, including the introduction, photos, best price, payment way, shipping way, time of delivery and so on.
The sale of services:
We can offer the service of showing the customers around our factory, and we are pleased to help the customers deal with some things when you have a visit to our factory.
After service:
1) The machine you have bought from us, they can be repaired well during 12 months, whatever question the machine has, we can repair them in free.
2) After buying our products, we can offer the engineers to install, commission for you, we provide the detailed training till you can master completely.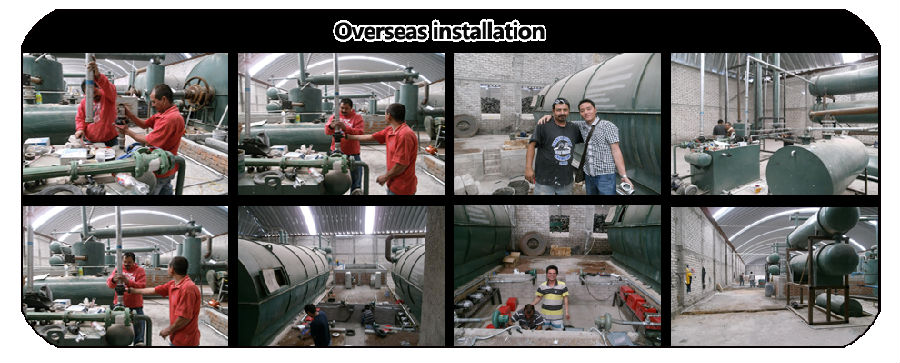 waste tyre pyrolysis machine oversea installation