Furnace oil extraction from waste tyres
Date:2013-08-29 13:32:48 / Industry Trends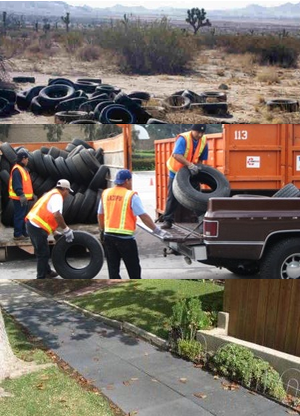 Furnace oil extraction from waste tyres
Nowadays,furnace oil extraction is more and more be concerned about by worldwide. With the rapid development of the world automobile industry and transportation industry,waste tire/ plastic/ rubber is increasing day by day and becoming more and more serious, many goverments of the countries are trying to deal with this thorny problems.
Here a facts. In Los Angeles County, approximately ten million waste tires are generated annually. Waste tires that are illegally dumped or improperly stored can pose a serious threat to public health and safety, as well as to the environment. The result can be urban blight and significant costs to residents. Waste tires can serve as a nesting area for pests and a breeding ground for mosquitos which can spread encephalitis and other illnesses. Waste tires can also catch fire and release toxic smoke.To chooce the Furnace oil Extraction machine is the best way to deal with this thorny problems.Because it not only averts the serious pollution but also has profit.
Nationwide, tire-derived fuel (TDF) is the biggest market for waste tires. According to RMA, TDF accounted for about 155 million tires in the U.S. in 2006, or about 52 percent of the total U.S. waste tires generated.
According to the survey, in California, total TDF accounted for about 8.3 million waste tires (18.7 percent), of which 1.3 million were used for fuel in power plants and 7.0 million were used as a fuel supplement for cement kilns. This is also why lots of countries choose furnace oil extraction machine to slove this social problem.It can turn waste tires/plastic/ rubber to "wealth".
All in all, Like it or not, our diesel economy won't just go quietly into the night. Yet so much of it just ends up in the dump, like discarded plastic bits and old tires, which is why a company is recycling this old plastic and tire refuse into a usable oil ,like fuel oil and diesel .Furnace oil Extraction equipment will be give you a clean sky with meet current standards and priced competitively.
As we all know, The furnace oil extraction plant is a special field, high profit and high risk. So, when you choose a supplier, security will be the most important thing.Except security, technology, quality and oil refining experience are also very important. Since this is a new field, so, no exact rules. In this way, experices and technology will be the key point. As for the quality, it should be worth of your cost. Our customers have come to know us as a dependable company where they know they can find what they need at the best prices. So, we are your best choose.We are DOING!