Moringa seed oil extraction machine
Date:2016-07-26 14:52:06 / Oil Press Machine / Give me the price / Leave a message
Introduction of moringa seed oil extraction machine :
1. Automatic spiral oil press had meet in CE, ISO9001, CCC, IMS.
2. We had test for the following oil materials, Suitable type of Seed: Corn, SoyBean, , Cashew, Camellia, Walnut, Almonds, Sesame,
Peanut, RapeSeed and Pumpkin seeds and castor bean, olive seeds, plam seeds, coconuts, tea seeds. etc more than 30kinds had tested.
3. China's national patent certified products. The machine including: Pressing system, filtration system, storagetank 2 sets, heating system, power generator control panel.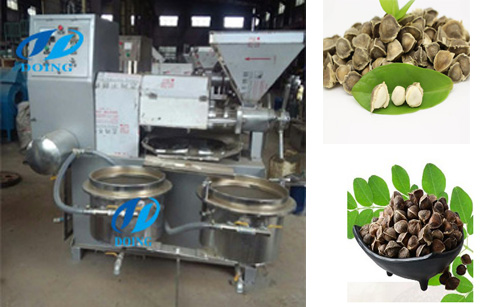 Moringa seed oil extraction machine

Moringa seed oil extraction machine advantage as:
1. Use high quality electroplate steel and stainless steel, durable, not easy to damage, senior intelligent control, simple operation, Can trouble-free press seeds 150T yield.
2. Squeezing out of the filtered cooking oil, comply with the food safety standards and GMP standard
3. Low temperature squeezing control technology, could start running on 30-50 degrees.
4. Economical, save electricity, just 15 square metre, 1 employees can production.
5. Cold and hot pressing technical, Our patent technology, gear shift speed technologies, truly realize cold pressing and hot squeeze. --- get governments certification, advanced than international
6. A double helix oil press equals two oil press, can obtain double benefits.
7. Military industrial manufacturing, quality No. 1 made in China.
8. Perfect after-sale service system, the 1 year warranty, free replacement parts, lifelong supply the parts in duty.