Sesame oil processing machine
Date:2016-07-26 17:18:57 / Oil Press Machine / Give me the price / Leave a message
Sesame oil processing machine operation
1. Before press oil seeds, please adjust the temperature and speed.
2. About the speed, it is arrive 100 celsius degree.
3. Put the oil seeds into the feeder, then begin the pressing.
4. Oil will come out from the squeezing bolt.
5. Flow into the filter.
6. Us the filter to filter simply crude oil.
7. Then into the storage tank.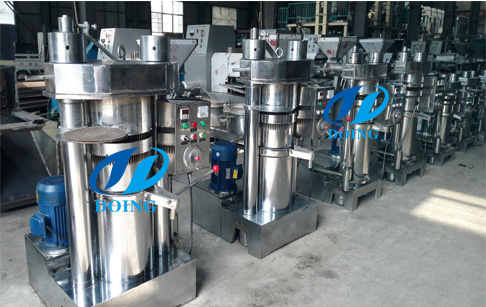 Sesame oil processing machine

Sesame oil processing machine mainly include three parts:
1. main engine 2. hydraulic system 3.electrical system

1) Main engine of sesame oil processing machine
Main engine includes base, upright, top plate, oil drip pan nut and so on , it is one of the main parts. Firstly the oil material is put into the assembly of the press boring,
then it being droved up by the oil cylinder piston, oil will outflow from the gap of press boring, and then pass the oil drip pan to the drum for oil storage.

2) Hydraulic system of sesame oil processing machine
Hydraulic system is the main power force of this machine, it includes transmission shaft, turbine, worm gear, gear pump, high pressure pump, overflow valve; super high pressure safety valve; hand-operated valve; seamless steel tube; pipeline connect and other spare parts. This machine adopts the advanced power pack of the world, and compared with two
plunger pump, it is faster, higher pressure and can resist higher temperature, it can continue working when the oil temperature is above 65 without cooling unit.

3) Electronic system of sesame oil processing machine
Electronic system is the most advanced part of this machine, it is fully automatic, easy to operate, and there's no special request to the operator, so this machine is particularly suitable for peasant.

This sesame oil processing machine machine is composed of motor, volt meter, pressure gauge, power insurance and so on. It is the most advanced equipment which can replace the manual operation of the sesame oil. This machine can press at least 2 to 7 kilograms per batch, the time is about 4 to 6 minutes.