Cooking oil refinery machine
Date:2013-07-05 15:33:30 / Edible Oil Refinery Plant / Give me the price / Leave a message
Cooking oil refinery machine, also called edible oil refinery machine or vegetable oil refinery machine, are used to process crude vegetable oil into refined edible oil. Henan Doing Company is a very professional cooking oil refinery machine manufacturer in China, and we can provide 1 ton to 600 tons per per day input capacity cooking oil refinery machine.

The popular capacity is mini cooking oil refinery machine from 1-5 tons, small scale cooking oil refinery plant from 5-20 tons. They are usually batch type cooking oil refinery machine. Full-cotinuous cooking oil refining machine more than 100tpd is also popular among some customers.

| | |
| --- | --- |
| 1tpd mini cooking oil refinery machine | More than 100tpd full-continuous cooking oil refinery plant |
Because of different crude vegetable oil have different specifications, so our engineer can design the cooking oil refining process according to your raw material. For example, soybean oil contains a lot gums, so it need hydration degumming process; Rice bran oil and sunflower oil contains a lot wax, so they need dewaxing process; Palm oil is a little special, it has a lot free fatty acid, so physical refining process is suitable for palm oil.
Some customers often asked how to caculate the oil losses in cooking oil refinery machine working process. It is mainly in four process: 1. The loss in alkali refining process; 2. The loss in decolorization process; 3. The loss in deodorization process; 4. The loss in production process. (Related reading: How to calculate the loss of refined edible oil?) But you don't have to warry about that, because our engineers can help you to commissioning and minimize the oil losses.
Next is the explain about cooking oil refining process flow chart, we take the soybean oil as the example.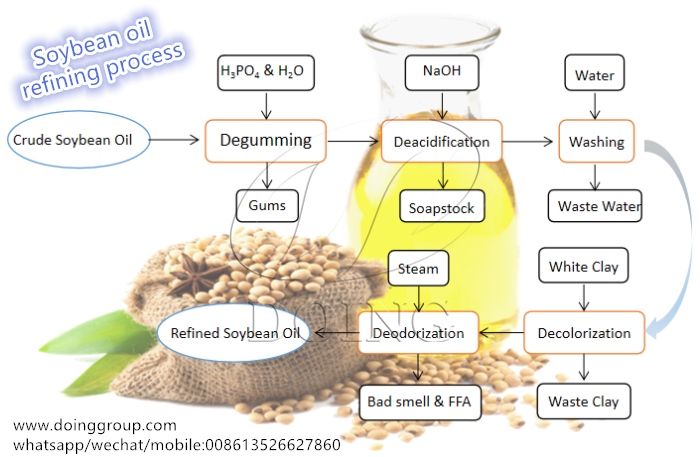 Soybean oil refining process flow chart

A. Degumming section:
This is the most important section of hydrate de-gumming, the water (there is a little P-acid in water) amount, temperature and water adding speed are very important.

B. Deacidification section:
Using alkali like (NaOH) to neutralize FFA in oil, during this process it will produce soapstock, then separating it from the oil. NAOH solution not only neutralize free fatty acid, but also can act with other substances like protein, mucus, phospholipid, pigment. In the batch type and semi-continuous refinery, separating the nigre by sedimentation method. But in the continuous refinery, we usually using the centrifugal to separate the soapstock.

C. Decolorization Section:
Because there is pigment in crude soybean oil, the oil color is dark. In order to improve oil color, we need to using the active clay to absorb the pigment away, then using vibrating filter to separate the waste clay. If you want to get light color oil, you need to add more active clay. Customer can control the oil color according to his requirement.
D. Deodorization and Dehydration Section:
General speaking, the crude oil smells not good, it will affect of oil storge and selling prices. So we usually use the direct steam to take odors. At the meanwhile, there is about 0.5% water content in refined oil, because the high temperature in the deodorization tower or pot, dehydration section is also finished in this part.
E. Filtering section:
After getting the deodored oil, in order to get the most purified cooking oil, we usually using the SS safety filter to filter refined oil once again.
If you want to buy cooking oil refinery machine or set up a cooking oil refinery plant, contact us! Our sales managers and engineers have rich experience, and they can help you to choose the most suitable machine type and refining technology.