Small scale groundnut and sunflower seeds husking machine Introduction
Date:2016-10-17 18:08:18 / Cooking oil machine FAQ /Give me the price / Leave a message
Some oilseeds need dehull to process cooking oil. Because the hull of oilseeds can affect the production capacity of cooking oil pressing machine and absorb much oil, which will greatly reduce the oil yield. Husking machine is one of the most usually used in the groundnut oil processing plant and sunflower oil processing plant.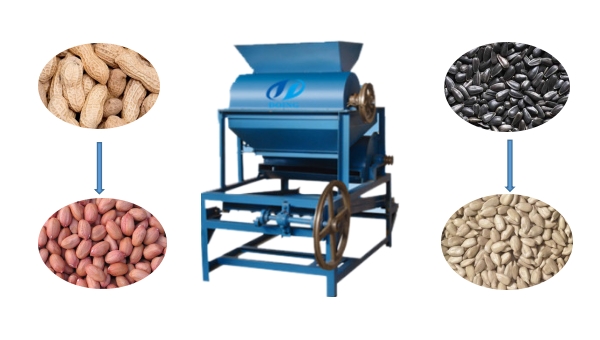 Husking machine used in cooking oil processing plant

Also, Henan Doing Company can provide different kinds of husking machines to remove shells of different oilseeds in different cooking oil processing plant, such as disc huller to process cottonseed, husking machine for dehulling peanut, etc.
Peanut husking machine

Advantages of husking machine:

1. Improving the oil yield and reducing the loss of oil.
2. Improving the quality of crude oil and meal, reducing color, acid value, the wax content and so on.
3. Prolonging the life of husking machine and other machines behind.
4. Reducing the power consumption and cost.
5. Husking machine is conducive to the utilization of the hulls, also increase economic efficiency.
Not all the oilseeds need to husk, the husking machine mainly used for sunflower, peanut, cottonseed and so on. You'd better tell me your needs, and Doing Company can recommend the suitble husking machine for you.