The functions of gravity stoner in oil seeds cleaning process
Date:2016-10-17 16:06:38 / Cooking oil machine FAQ /Give me the price / Leave a message
The above video shows the gravity stoner working process. Gravity stoner is one of cleaning equipment, which can remove the stones in the oilseeds. It is a stone separator by specific gravity, also called de-stoner.
The gravity stoner can remove more than 95% of stones in the oilseeds, and it has the advantage of simple structure and low consumption.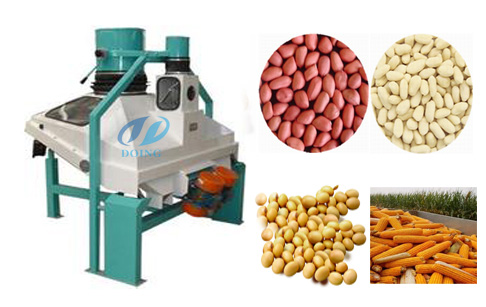 Gravity stoner for cleaning oilseeds
The structure of gravity stoner:
Gravity Stoner is composed of a feed hopper, a suction pipe, a sieve body, a sieve plate, a discharge port, a stone mouth bar, vibration motor, rack, artificial leather drum etc.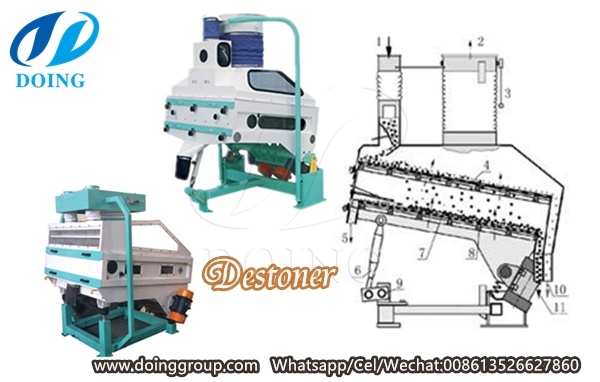 The inside structure of gravity stoner

Features of gravity stoner:
1. Good classification effect;
2. Smooth operation;
3. Low power consumption;
4. Can be used to process various kinds of oil seeds.
Operation and maintenance of gravity stoner:
1. drive with or without foreign body, drive wheel same sound check before the screen surface and inside the gravity stoner to drive it;
2. suction fan should be open, open throttle and start to remove stone and begin feeding;
3. keep the feed flow evenly, does not exceed 10% of the rated capacity. Note feed hopper feed store doors are not blocked and cleared up;
4. ensure to stone plate, uniform airflow unobstructed wind deflector;
5. pay attention to the bearing fever cases, regular cleaning, oil changes; timely replacement of worn found.
Related products: