Several proposals on vegetable oil production
Date:2020-01-16 13:55:23 / Industry Trends / Give me the price / Leave a message
Vegetable oil production is one of the most lucrative business, since everyone needs to use vegetable oil in daily meal cooking. But for clients who firstly step into the vegetable oil production field, you must be wondering how to do this business and what are the possible solutions. Here Doing Company is glad to introduce several proposals on vegetable oil production for you.
1. What oil seeds can be processed into vegetable oil?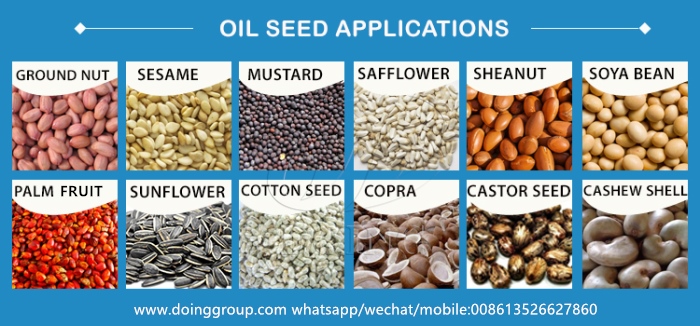 Oil seeds can be used to produce vegetable oil
In vegetable oil production, there are two kinds of oil seeds. One is common oil seeds like sunflower seed, peanut/groundnut, soybean, sesame, olive, coconut, rapeseed, mustard and so on, and the other is special oil seeds like palm fruits and palm kernels. For both kinds of oil seeds, Henan Doing Company can design different process and provide suitable machines for you.
2. What machine can Doing Company provide for you?
For small scale crude oil production, we can offer single oil presser with cheap price. For medium and large scale crude oil production, we can offer complete oil press line or solvent extraction plant. Our engineer can design specific proposal according to your raw material and input capacity.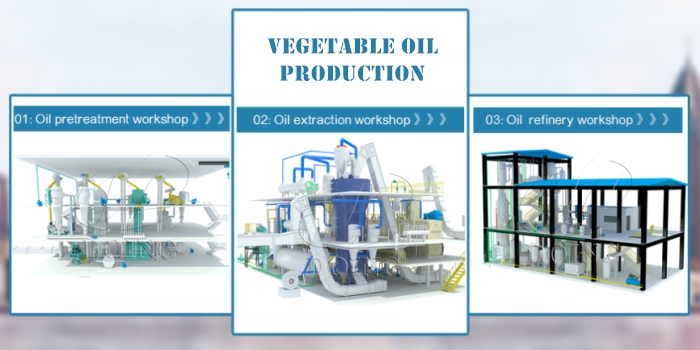 The three workshops of complete vegetable oil production line
For refined oil production, the oil refinery machine is necessary, which includes degumming, deacidification, decolorization/bleaching and deodorization, to remove the impurities in the crude oil. For some special kinds of oil like rice bran oil, corn oil or sunflower oil, we can also provide oil dewaxing machine to further remove the wax, and for palm oil, we can also provide oil fractionation machine to separate palm olein and palm stearin.
3. What is the price of vegetable oil production machine?
The price of vegetable oil production machine is one of the main concerns of many customers, but it can only be a reference factor. Do not only look at the price and ignore the quality. Or it will result in no guarantee of later benefits, but more loss. Choose Henan Doing Company to get cost effective equipment for your palm oil production business. Contact us now to get the promotion details and the latest price list of our machinery.
Above are some of the main proposals on vegetable oil production. Welcome to let us know your idea about starting vegetable oil production business, and we would be glad to design most suitable proposals for you.