Loop type extractor for soybean oil solvent extraction plant
Date:2017-03-29 14:03:29 / Cooking Oil Solvent Extraction Plant /Give me the price / Leave a message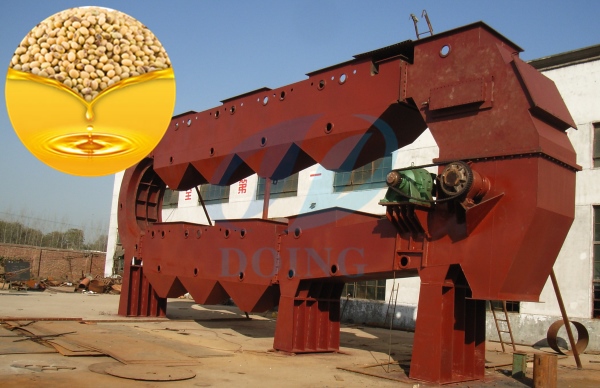 Loop type extractor for soybean oil solvent extraction plant
Since the oil content of soybean is 16%-24%, which is not very high. If only through pressing, the soybean cake will contains remaining oil. So our company developed different soybean oil extractor machine, such as rotocel extractor, loop type extractor and chain box type extractor. This passage will mainly introduce loop type extractor for soybean oil solvent extraction plant.
By using the soybean oil loop type extractor, the oil residue will be lower than 1%, and the meal is more suitable for animal feed.
The four advantages of our soybean oil loop type extractor machine:
1. Loop type extractor adopts chain transmission, new type of loop structure, low speed, equipped with low power, stable operation without noise and low maintenance cost;
2. Feeding system automatically adjust the speed of main engine according to the amount of material to maintain a certain material level of the storage tank. It is conducive to the formation of micro negative pressure inside the extractor and reduce the leakage of the solvent;
3. Advanced mixed oil circulation principle is conducive to reduce the input of fresh solvent, reduce residual oil in meals, increase the concentration of mixed oil, and achieve the purpose of saving energy by reducing the amount of evaporation;
4. The material layer of extractor is lower with percolation leaching. Materials would be turned in the bending section to reduce the blind side of leaching. However, the mixed oil contains too much meal, it can enter the evaporation system through effective treatment.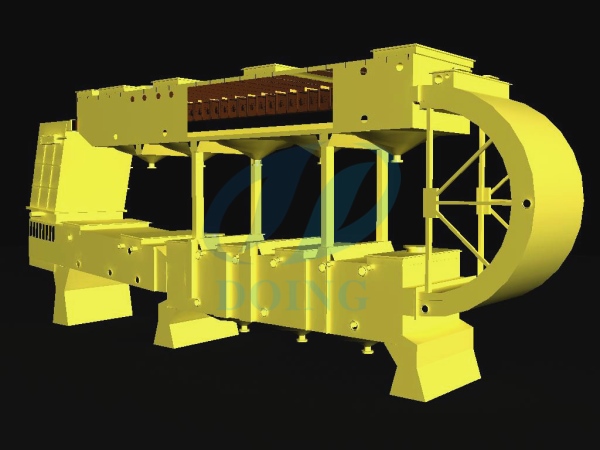 Loop type extractor model picture
The parameter of soybean oil loop type extractor machine:
Model
Capacity(t/d)
Power(kw)
Main application
Mark
YHJ100
80~120
4
Use for extracting oil of various of oilseeds
Especially suitable for the good permeability oilseedssuch as soybean

YHJ150
140~160
5.5
YHJ200
180~220
7.5
YHJ300
280~320
11
YHJ400
380~420
15
YHJ500
480~520
15
The loop type extractor designed by Henan Doing Company adopts solvent soaking or spraying method to extract soybean crude oil from soybean meal, with high oil yield and low residual oil characteristic. We have rich experience of design, manufacturing and installation of soybean oil solvent extraction plant with guaranteed high efficiency, high profit and reliable extraction process. Doing Company welcome you! And wait for your enquiry!