Evaporation system of cooking oil solvent extraction plant
Date:2016-12-21 15:23:35 / Cooking Oil Solvent Extraction Plant /Give me the price / Leave a message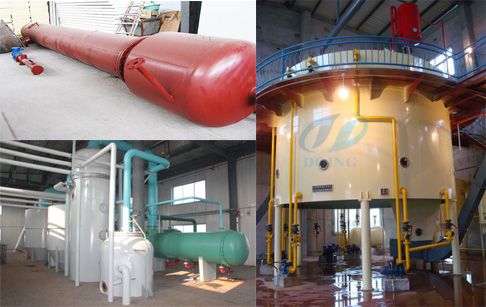 Evaporation system of cooking oil solvent extraction plant

The evaporation system of cooking oil solvent extraction plant is to seperate meal powder,solvent and oil by filtration, evaporation, and stripping.Our evaporation system adopts negative pressure evaporation, the technology has reached the international leading level.
Major equipments of evaporation system: filter, cyclone hydraulic separators, evaporator, stripping tower, etc.
Evaporation System Process Introduction:Mixed oil through secondary suspension separated into the first evaporator, DTDC desolventizing machine as the first evaporator heat source. The concentrated mixed oil discharge from the first evaporator bottom of the separate chamber, after mixing oil heat exchanger in the second evaporator, the second evaporator uses indirect steam heating.
Further concentrated mixed oil flowed from the second evaporator bottom of the separation chamber, then pumped into the upper stripping tower, the department of the stripper bubbled into steam directly, take off the residue solvent, mixed gas enters the stripping condenser, stripping condenser vacuum by high vacuum jet pump to maintain. the stripper bottom is equipped with liquid level control device, to ensure the stable flow of liquid seal and refined oil, crude oil pumped out by stripping pump by vacuum drying, crude oil into temporary storage tank after cooling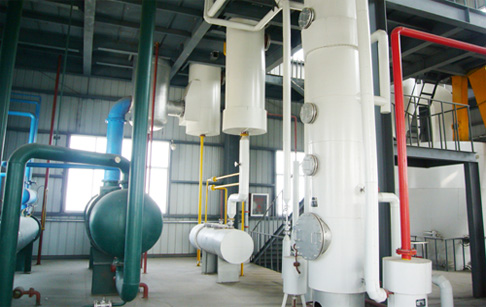 Evaporation system of cooking oil solvent extraction plant

Feel free to contact us through the below contact form to get more details of our rotocel extractor machineour evaporation system of cooking oil solvent extraction plant. Send us your requirements so we can offer you the tailor made soluations according to your situation. You will get a quick reply in one business day!