Canola oil cold press machine
Date:2016-10-17 17:49:54 / Oil Press Machine / Give me the price / Leave a message
Canola oil cold press machine is a single screw oil press machine with larger capacity, adopting screw-driving force to extract oil from various oil plants like canola, rapeseed, mustard, sunflower seeds, soybeans, etc.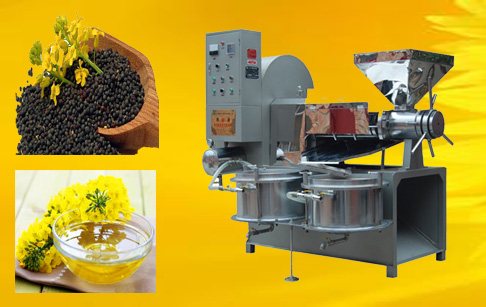 Canola oil clod press machine with filter
The canola oil cold press machine has the features of simple structure, easy installation, operation and maintenance. Canola oil cold press machine is an ideal choice for cooking oil pressing plant of small and medium size and it can also be used to pre-press some oilseeds with high oil content before cooking oil solvent extraction plant.
Canola oil cold pressing process:
Canola - cleaning - pressing - filtering - refining - refined rapeseed oil;
In canola oil cold pressing process, the canola after cleaning needn't to be fried in frying pot. The moisture content of rapeseed will directly affect the efficiency of oil pressing in cold pressing process. Thus, to judge the moisture content of canola before pressing is important. Generally, the moisture content should be kept in 5 - 8% before pressing.
Canola oil hot press machine
Canola oil hot press machine is a kind of auxiliary frying pan with a three layers, the seven squeezer, away from the circle of discontinuous screw axis, and a row of vats chamber cage structure of primary crushing machine. Canola embryos from above after secondary frying pan to adjust hot and humid, make to the expected into the press after the moisture and temperature, squeezing through the feeder in the bore into the press.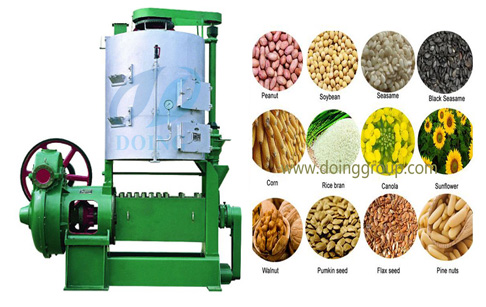 Canola oil hot press machine with auxiliary frying pan
On vats is expected in the chamber by a pressing process can reach a predetermined dry base oil residue index (5%-7%). Canola oil from a crack in the vats of cage of extrusion, and with the entrained oil residue into slag ground dragon sent to filter.
Canola oil hot pressing process:

Canola - cleaning - frying - pressing - filtering - refining - refined rapeseed oil;
Screening the canola with the screen of 30 meshes / inch to make impurities contained in the canola less than 0.5%. Soften the canola to keep its moisture content at around 9%, then cooking the canola to make the oil temperature reaches 110 - 120 degrees with moisture content of 1 - 1.5%.
Then, they can be fed into the canola oil press machine for pressing. If the cylindrical frying pot is used, canola after cleaning and impurity removing can be directly fed into the cylindrical frying pot or the frying pan. But 2 - 3% of the water should be added when frying the seeds. When the temperature reaches 110 to 120 degrees, the canola can be discharged for pressing.

Common problems in the canola oil pressing process:
Oil content in the canola can be up to 33- 40%. Generally, abnormal phenomenon would not appear in canola oil hot pressing process when operating according to Doing Company canola oil press machine instruction book.
While in canola oil cold pressing process, improper operation, moisture or temperature of machine body of canola oil press would lead to the slag leakage, oil return or unsmooth feeding. Please consult Doing Company if there is any problem like that.
Canola oil cold press machine and canola oil hot press machine have their own advantages and disadvantages. Doing Company will recommend the most suitable canola oil press machine according to your needs. Weclome to contact us!