Vegetable dewatering machine
Date:2016-07-21 15:12:31 / Oil Press Machine / Give me the price / Leave a message
Working principle of dewatering machine :
The liquid phase is separated through the mesh of the cylindrical screen which encloses the screw conveyor. Along its path toward the exit, the material gradually separates progressively the less linked liquid and then the more strongly linked liquid until a plug of almost dry material has formed before the outlet. The plug is continuously expelled through the outlet diaphragm.The machine will automatically find its balance of squeezing force depending on the material. Consequently, it can be used for a wide range of materials without the need for any manual adjustments.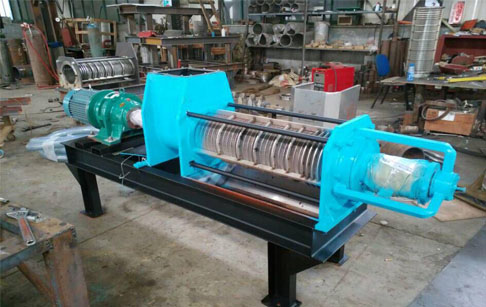 Vegetable dewatering machine
Application of dewatering machine:our dewatering machine can dewater vegetable leaf ,sugarcane bagasse,pear,banana ,oil residue ,ginger and etc..

Features of our dewatering machine
1.Screws design, high efficiency in dewatering
2.High stainless steel material
3.Especially designed for pressing or dewatering non-liquid solid material containing high fiber
4.Dewatering rate is very high.