Factory stuff training on improving welding technology
Date:2019-05-06 16:25:45 / News / Give me the price / Leave a message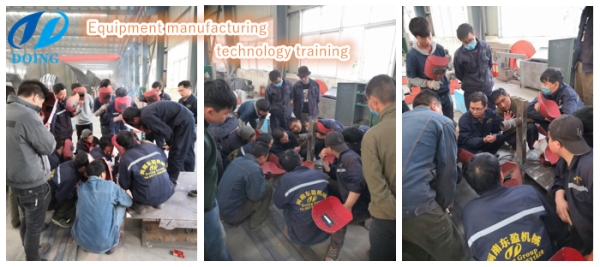 Factory stuff training on improving welding technology
Factory director of Henan Doing Company presented a series of high standard welding process, from stamping, welding, grinding to testing. And then, our factory stuffs do these operations one by one by themselves, and our factory director gave them guidance in the whole process. Henan Doing Company holds such stuff training termly, in order to further improve the production technology of the factory staff.
High standard welding technology is very important in cooking oil machine manufacturing process. If the effects of welding is not unqualified, various problems will appear in the cooking oil production process, and in severe cases, it may lead to discontinuation of production.
So Henan Doing Company has been insist on deepening the details of the cooking oil machines. We believe that Doing is better than thousands of words. Only doing these all the time, Henan Doing Company has the vitality to stand on the market and obtain customers' trust for a long time.