What machines are needed for large scale production of groundnut oil?
Date:2020-05-25 16:41:38 / Cooking oil machine FAQ / Give me the price / Leave a message
Large scale production of groundnut oil usually refers to that the input capacity is more than 50 tons per day, and using pretreatment, pre-pressing and solvent extraction method to produce groundnut oil. What machines are needed? Let me introduce to you one by one.
First machine is needed for large scale production of groundnut oil is groundnut husking machine if your raw material is groundnut with shells. And the husking machine often is used outside the groundnut oil production workshop, because there will be much dust.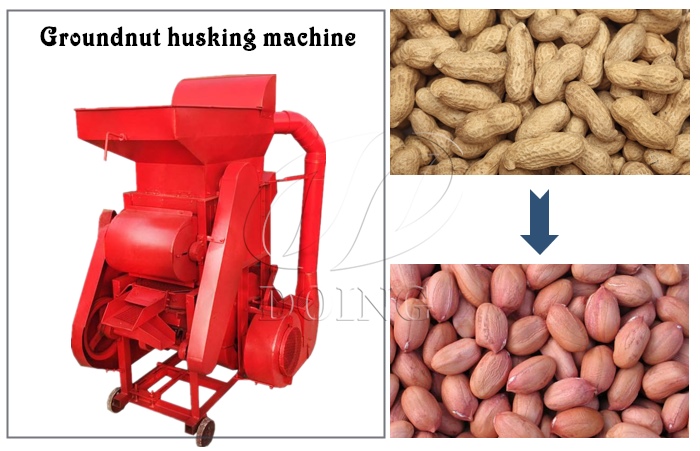 The groundnut husking machine
Then is the cleaning machines, including magnetic drum, cleaning sieve and de-stoner. They can remove impurities like straw, dust, stone and iron impurities in the groundnut.
The third kind of machine is needed for large scale production of groundnut oil is crushing machine. It is to crush groundnut into small pieces, in order to make it easier to get oil out.
Next machine is flaking machine, which is to flake the groundnut pieces into flakiness, and make the groundnut can be heated equably in the following machine -- cooking machine.
The fifth kind of machine -- cooking machine, is to adjust moisture and temperature of groundnut, and make it reach the best condition for pre-pressing.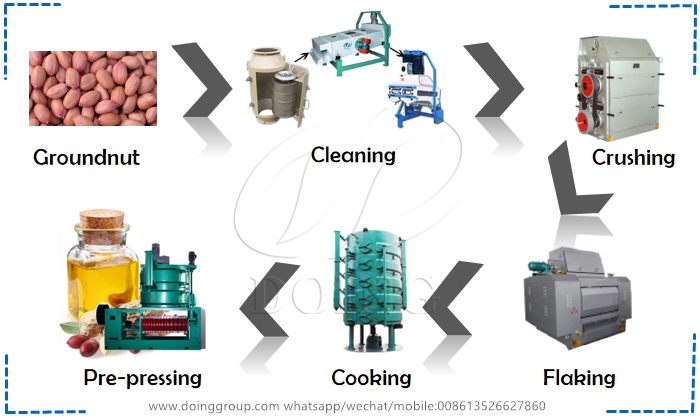 Groundnut pretreatment machines and oil pre-press machine
The next machine needed is large scale groundnut oil pre-press machine, which is to squzee the groundnuts to get crude groundnut oil. After pre-pressing, the residual oil rate of groundnut cakes is about 15%, and then these groundnut cakes will be sent into groundnut oil solvent extraction workshop to extract oil out.
The machines included in groundnut oil solvent extraction workshop mainly consists of four parts: solvent extractor, D.T.D.C system, mixed oil evaporating and stripping system and solvent cooling and recycling system. Inside them, solvent extractor has two kinds: rotocel extractor and loop type extractor, and others don't have different types to choose.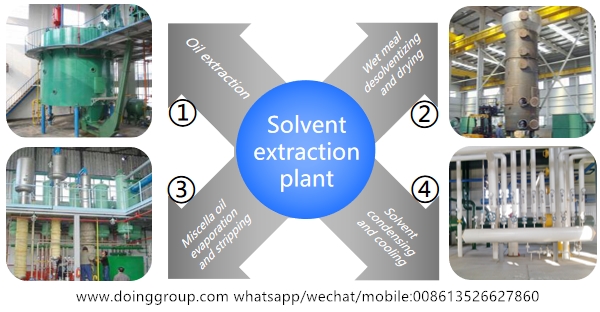 The groundnut oil solvent extraction machines
After solvent extraction, the final oil residue in groundnut meal is lower than 1%, which means you can get more oil. And the groundnut meal is more suitable as animal feed than groundnut cakes.
For large scale production of groundnut oil, generally it also needs groundnut oil refining machine to make sure the quality of final product oil. Different kinds of crude groundnut oil need different further processing machine. The crude groundnut oil got from oil pre-press machine can be edible directly without refining. If you want to get higher quality, you can add a winterization workshop. Through cooling, crystallization and filtration, the groundnut oil will become more clear and won't have solid substance separating out when the temperature is low.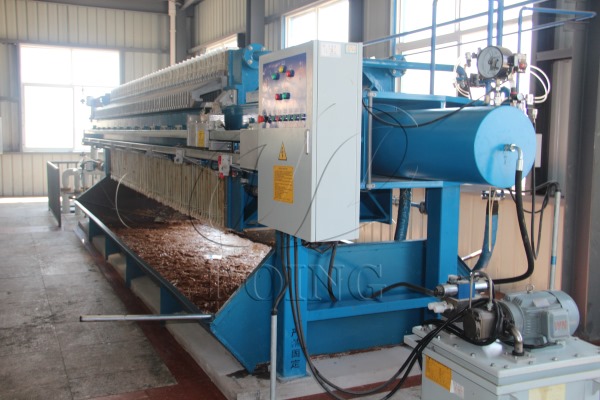 The filter used in winterization workshop
However, the crude oil got from solvent extraction workshop must be refined, and then can be edible. As for groundnut oil refining machine, Doing Company has three types you can choose: batch type, semi-continuous and full continuous type. Our engineers will recommend most suitable one according to your requirement for the final oil and input capacity. The groundnut oil refining machine can remove gums, acid, pigment and bad smell in the crude groundnut oil, and finally you will get high quality final product oil.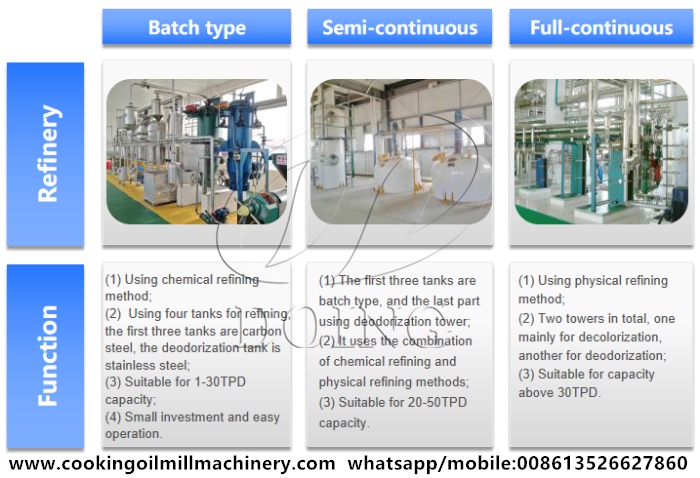 Three kinds of groundnut oil refining machine you can choose
If you have planned to set up large scale groundnut oil production business, welcome to contact us for more deep discussion. We would be glad to help you build a successful business in your area and bring big profit for you!