The methods and techniques of promoting the groundnut oil production
Date:2020-03-09 18:01:24 / Cooking oil machine FAQ / Give me the price / Leave a message
In groundnut oil production process, how to promoting the groundnut oil production? The following four methods you can try:
1.Select high quality groundnut seeds
If you use groundnuts with shells, you had better select those whose shell lines are clear and deep, and the particle shape is full. If your groundnuts are dry groundnut kernels not with the shells, you'd better to pick complete kernels with smooth surface, no trauma and insect moth.

High quality groundnuts and groundnut kernels
Another else, if you need to buy the groundnuts, you had better to select fresh groundnuts harvested in the same year, not those stored for many years.
At last, you need pay attention to that the impurities content and water content of oil seeds will also influence the groundnut oil production. Therefore, you need use some machines to process the groundnuts to make sure the quality of oil seeds, so as to increase groundnut oil production.
2. Choose high oil yield rate groundnut oil production process
Groundnut oil production process has two kinds: pressing technology and solvent extraction technology. The residual oil rate of pressing technology is about 6%-7%, and the residual oil rate of solvent extraction technology is only 1%. But noteworthy, the solvent extraction technology is suitable large scale vegetable oil production plant, the input capacity is above 30 tons per day, and the machine cost of it is higher than pressing plant.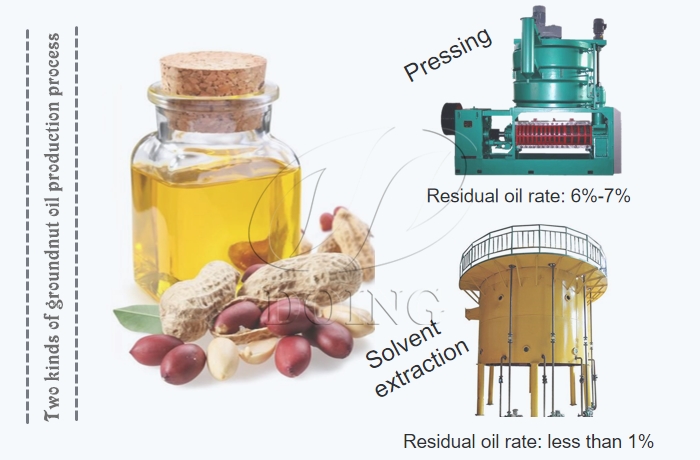 Two kinds of groundnut oil production process
So if you have enough budget, I suggest you choose to use solvent extraction technology to produce groundnut oil, which can increase make you get more benefits.
3. Buy high configuration of groundnut oil production machine
As we know the higher the degree of automation, the lower the vegetable oil loss. In China, some large scale vegetable oil factory all choose full-continuous groundnut oil production line from oil seeds pretreatment to crude oil refinery.

Large scale groundnut oil production line
If you can not afford the large scale automatic groundnut oil production line, you can add as much equipment as possible within the budget. For example, in the oil seeds pretreatment section, add equipment such as cleaning sieve, roaster, etc., to increase the groundnut oil production.
4. Ensure the normal operation of the workers
The normal operation steps is necessary requirement for production. If the operation time or operation temperature in some section is unqualified, it may affect the groundnut oil production. Or in the batch type groundnut oil production plant, if the worker more slowly feed the raw materials, the groundnut oil production will also be lower.
These are the methods and techniques of promoting the groundnut oil production given by the engineers of Henan Doing Company. If you want to set up a groundnut oil production plant, please remember Henan Doing Company is one of professional manufacturers in China. Welcome to contact us!