Scrap Copper cable wire Recyclers should know some knowledge
Date:2015-11-13 13:22:45 / News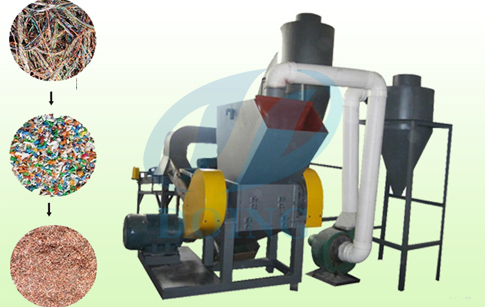 Scrap copper wire recycling machine


Scrap copper cable wire recycling machine is an environment friendly and human beneficial industry. But to those who want to john in this line, can they do what they want just as they wish. I dare most of them will say "No". For learning about knowledge as followed is necessary.
Copper Classification

There are many kinds of copper and each of them brings in different amount of cash per unit. So learning about their different types is rather important.
Pure copper, also known as bright Copper, is usually used for wire. It is the most valuable of scrap copper.
No.1 heavy scrap copper, which consists of uncoated, clean, unalloyed copper and can include punchings, clippings, bus bars, pipe, wire over 1/16' thick with no burnt or brittle wire and commutator segments., has the highest price next to pure copper.
The third is scrap copper No.2. It consists of clean, non-alloyed copper. It needs to be clean, but can be oxidized or coated clippings, bus bars, punchings, commutator segments. It can also include clean oxidized pipe or tubing, but should be free of excessive solder. Light gauge, clean, coated or oxidized wire is also allowed, but must be free of fine gauge wire. Remember all No. 2 scrap copper should be free of excessive oxidization, ash, brittle burnt wire and scale.

Copper Identification

In the olden days, copper is commonly used for making utensils. You can find it very easily in many daily usages. It is rather easy to identify it. While In modern days, some of their usages have been replaced by other metals. What should we do?
1. Feature. Remember copper is a kind of non-ferrous metal. Advanced technology has given you a more powerful tool, magnet. If it can't be sucked by it, we can separate it with some other metals primarily.
2. New usage. Copper is a conductive material, so it is mostly used in wiring and electronics. So most of the scrap wire contain copper.
3. Color. When copper is pure, it is usually red or brown color. But because when it is oxidized, it will turn into green color.

We DOING Company as a leading manufacturer in China has specialized in all kinds of waste recycling machinery for about 10 years, 5 years experience for domestic market, and 5 years for foreign trading. We have developed and designed many kinds of waste processing machines, such as waste tire recycling machine, waste plastic recycling machine, waste oil recycling machine, waste copper wire recycling machine, waste aluminum-plastic panel recycling machine, waste PCB recycling machine, waste home appliances recycling machine, etc.
Through our constantly improved technology and services, we DOING Company has been accepted widely.