New product copper extraction machine
Date:2015-11-11 15:51:33 / Copper wire recycling machine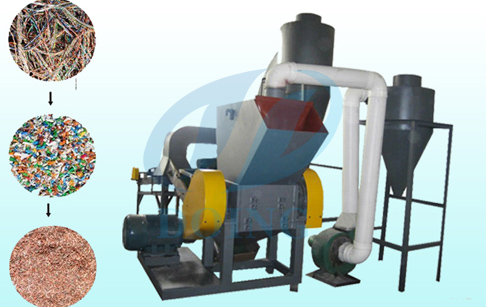 Copper extraction machine
Henan Doing Mechanical Equipment Co.,Ltd is a leading manufacturer specialized in copper extraction machine and lines ranging from Research & Development, Design, Manufacturing to Installation & Commissioning.
Scrap copper extraction machine is a kind of machinery used for recycling waste cables, whose diameter should be below 25mm, such as Auto electric wire, Motorcycle electric wire,Computer wire and other various miscellaneous material cables, communication cables, etc.

The copper extraction machine recycling rate can reach 99.9%, and can get copper granule and PVC plastic in the end automatically.
Combines many processions into one, The whole process is controlled by PLC, including crushing, conveying, dust collecting, separating process. It can recycle both the copper granule and PVC plastic. No need water during the whole process, no dust, no environmental pollution.

Copper extraction machine advantage

1. Compact structure, saving space.
2. Stable and reliable performance.
3. Wholly controlled by electricity control panel, easy to operate and labor saving.
4. Minimum copper recovery rate can reach 99%.
5. No dust during processing and no water is used for separation.
6. The voltage can be customized according to your requirements.



Save