Copper cable recycling machine
1.Copper cable recycling machine brief introduction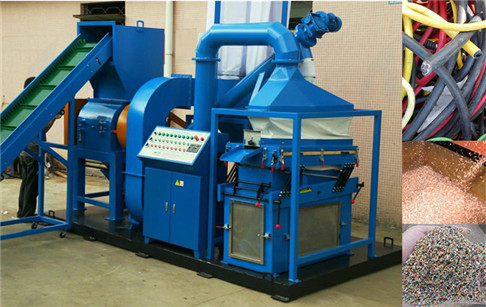 Copper cable recycling machine
The Copper cable recycling machine is one of our products that are developed on our own. It is usually used to produce copper and recycle plastic granules. The separator is independently developed by ourselves and has rational structure, stable operation performance, and so on.
Copper cable recycling machine is suitable for processing all kinds of cables. It can separate copper from plastic effectively by crushing, vibrating screening separation and vibration separation so as to achieve comprehensive utilization. It features good cost effectiveness, dust-free producing progress and second pollution-free property.
Besides,Copper cable recycling machinecan facilitate the installation, test running and delivery. You can just put it into use immediately when you receive it. Moreover, during the whole production process, the cable recycling facility only needs to be fed once because the volume for material is quite big. Custom products are available according to customers' requirements.

2.Copper cable recycling machine feature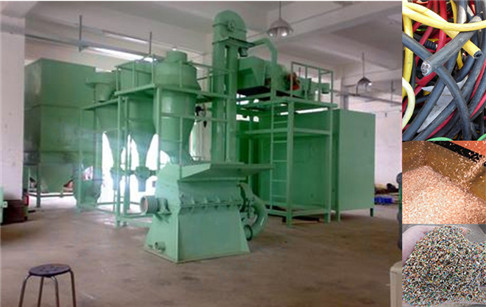 Copper cable recycling machine
1.only 2 workers to operate the whole system
2.Cable diameter under 25mm can be processed
3.Purity of copper over 99%
4.No pollution
5.Skid mounted available
6.The whole system is controlled by PLC
7.Small land occupancy


3.Copper cable recycling machine application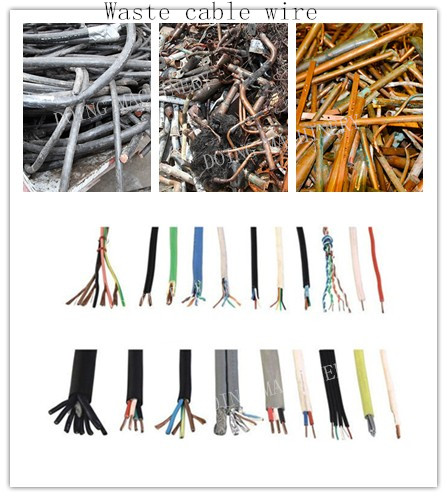 waste copper cable

For our copper cable recycling machine , please check the available raw materials as below:
All kinds of scrap wires, copper wire, aluminium wire, such as automobile electric line, motorcycle electric line, storage battery electric line, waste household appliance disassembly electric line, electromechanical equipment disassembly electric line, computer cable, telephone wire, cable TV line, communication cable and other scrap wires which are difficult to recycle, circuit board, copper-clad plate, etc

4.Copper cable recycling machine working process
Copper cable recycling machine is mainly used to make the double recycling use of metal and plastics from scrap wires. The Copper cable recycling machine through crude crushing to extract the iron materials, then through fine crushing to separate the metal and plastic mixture. Since the plastic and metal granules are uniform, but the weight has big difference, they are easy to be separated by the gravity separator. But the plastics after separated by the gravity separator is not completely clean, may have about 2-5% small copper wre or powder. Then use the electrostatic separator can extract the rest and small copper wire or powder out to get pure plastic and copper metal. Thus to increase the recycle use value of the plastics and metals.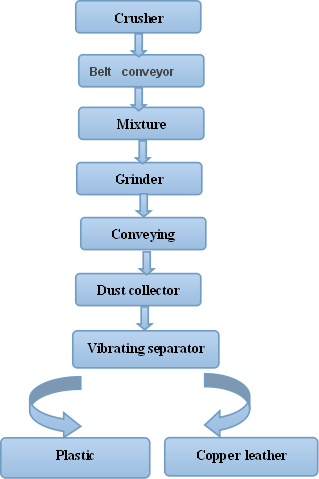 Copper cable recycling machine working process

Prev Λ Home appliance recycling equipment NEXT ν New product copper extraction machine
If you wanna to get more details about Copper cable recycling machine you can send E-mail to market@doinggroup.com. You can consult our professional engineer and specialized sales team with leave a message in below form.We will contact with you ASAP.You also can visit our factory in Henan,China.Get Detailed address.