Method of sunflower oil extraction
Date:2015-11-09 18:08:14 / News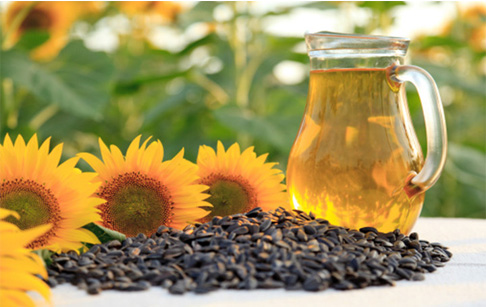 Sunflower seed oil
Methods of sunflower oil extraction :
A man standing in front of a field of sunflowers
This Ugandan farmer has received a grant to help buy the equipment necessary to extract oil from sunflower seeds. Producing sunflower oil will create jobs in the local area.
Sunflower oil can be extracted using chemical solvents (e.g., hexane), or expeller pressing (i.e., squeezed directly from sunflower seeds by crushing them). "Cold-pressing"/expeller-pressing sunflower seed oil under low-temperature conditions is a preferred method, for those seeking an extraction process that doesn't involve chemical solvents, as well as for people
following a raw foods diet.

Refined versus unrefined
Refining sunflower oil through solvent extraction, de-gumming, neutralization, and bleaching can make it more stable and suitable for high-temperature cooking; but, will also remove some of the oil's nutrients; flavor; color (resulting in a pale-yellow); free fatty acids; phospholipids; polyphenols; and, phytosterols. Unrefined sunflower oil is less heat-stable (and therefore well-suited to dishes that are either raw or cooked at low temperatures); but, will retain more of its original nutrient content, flavor, and color (light-amber).