What is the main section of cooking oil refinery ?
Date:2015-11-09 16:57:20 / Cooking oil machine FAQ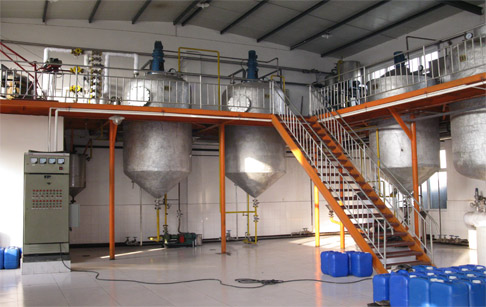 Part of cooking oil refinery machines

After cooking oil press workshop,the products are crude cooking oil and cake,then cake is carried into cooking oil solvent workshop for oil extract from cake.And crude cooking oil from cooking oil press workshop and cooking oil solvent extraction workshop should be refined in cooking oil refinery workshop.Here is the description of cooking oil refinery part.

Craft features of refinery part :
A.Degumming section: This is the most important section of hydrate de-gumming, adding the water (there is a little P-acid in water) to remove the gum.

B.Deacidification section:Using alkali like (NaOH) to neutralize FFA in oil, during this process it will produce soapstock , then separating it from the oil.

C.Decolorization Section: Because there is pigment in crude oil, the oil color is dark. In order to improve oil color, we need to using the active clay to absorb the pigment away , then using vibrating filter to separate the waste clay. If you want to get light color oil, you need to add more active clay. the oil color can be control led by clay amount.

D.Deodorization and Dehydration section:General speaking , the crude oil smells not good, it will affect of oil storge and selling prices. So we usually use the direct steam to take odors. At the meanwhile,there is about 0.5% water content in refined oil, because the high temperature in the deodorization pot, dehydration is also finished. After that, the final oil will be refined once again through bag type filter.
Above is cooking oil refinery process ,if you want to have business about cooking oil refinery ,please feel free to contact us.