Ecuador customer came to visit our waste tyre pyrolysis plant factory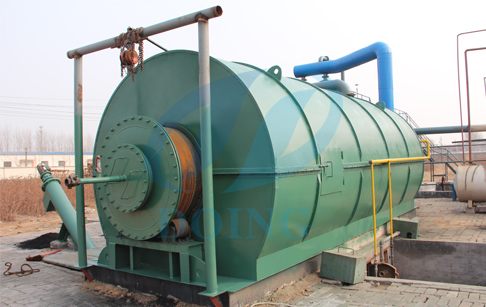 Waste tyre pyrolysis plant
In 22nd October 2015 we received customers Mr Deepak and Jose from Ecuador to visit our factory for checking our technology and quality of waste tyre pyrolysis plant .Deepak and Jose are partners for the waste tyre pyrolysis project. Deepak lives in Hongkong working on new tyre business, and Jose owns a factory for tyre retreading in Ecuador. Now they are planning to cooperate together to install one set 10ton capacity waste tyre pyrolysis plant and one set 5ton capacity waste oil distillation machine in Ecuador. Before their visit, Mr Deepak insist seeing a running waste tyre pyrolysis plant. But in our factory we only have demo pyrolysis plant and distillation plant mainly used to show the general working process to customers and we rarely run demo plants. Now that customers required to see a working waste tyre pyrolysis plant. we decided to run our 100kg mini-capacity tyre pyrolysis plant for them. After visiting our factory, they are very satisfied, and they will set up the waste tyre pyrolysis oil project in the year 2016. We also gave our Mexico customer's contact reference to them for they to well know our pyrolysis machine.
For more information regarding our waste tyre pyrolysis plant and oil distillation plant, you are welcome to send us your enquiry!

Save
Prev Λ To install pyrolysis waste tyre to oil and tyre oil distillation for Jamaica customers NEXT ν Mexico customer bought 6 sets waste plastic to oil machine in 2013
If you wanna to get more details about Ecuador customer came to visit our waste tyre pyrolysis plant factory or the cost of related pyrolysis machine , you can send E-mail to market@doinggroup.com. You can consult our professional engineer and specialized sales team with leave a message in below form.We will contact with you ASAP.You also can visit our factory in Henan,China.Get Detailed address.