The latest hot sale home appliance recycling equipment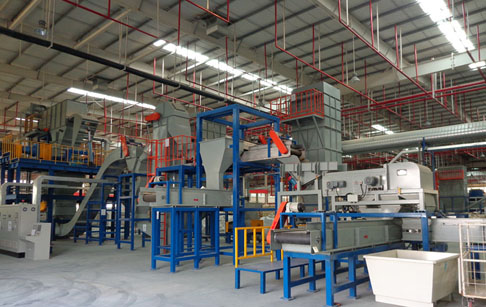 Home appliance recycling equipment
Home appliance recycling equipment is for recycling the very large size used household electrical appliances, like waste refrigerator, air conditioner, washing machine to get pure metals and plastics for recycle use.
The home appliance recycling equipment can make pretreatment for the waste refrigerator, air conditioner and other electric appliance which has refrigerant to take out fluorine and tear down the compressor, for the waste washing machine, need to tear down the motors. Then to make the electric appliance go through first rough crushing, second crushing, air classification, foam collection, dust removal, magnetic separation, eddy current separation, electric separation and other process to separate and recycle the iron, copper, aluminum, plastic, Insulation foam membrane and others. The Waste home appliance recycling equipment is a kind of large-scale whole set automatic disassembly, separation and recycling production line. The recovery rate can reach to more than 99%.

Prev Λ Copper and wire recycling machine for copper NEXT ν Copper cable recycling machine
If you wanna to get more details about The latest hot sale home appliance recycling equipment you can send E-mail to market@doinggroup.com. You can consult our professional engineer and specialized sales team with leave a message in below form.We will contact with you ASAP.You also can visit our factory in Henan,China.Get Detailed address.