Water pollution control in the working of waste tyre pyrolysis plant
There are 2 parts need to use water during the working process of waste tyre pyrolysis plant.

The 1st is used as cooling water. High temperature oil gas will be cooled into oil gas during waste tyre / plastic pyrolysis processing. When it works, the oil gas will be inside small pipes and water will be outside the pipes. Oil gas and cooling water are indirect contact. After working, the water will be as clean as it came in condenser pipes. On the other hand, the cooling water is circulating water. There will be no need to change water after finished the waste tire pyrolysis processing. You just need to add more when it evaporated.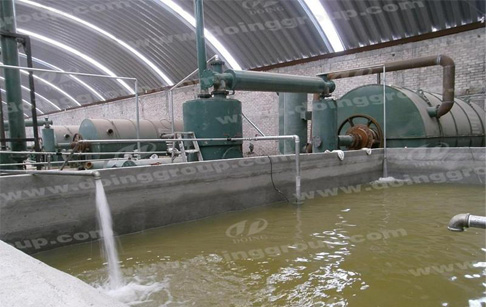 Waste tyre pyrolysis plant

The 2nd is used as water dedusting system in the working of waste tyre pyrolysis plant.. First we will add some chemical in the water for. There are many high pressure nozzles inside water dedusting device to rinse smoke. And it also has environmental damp inside for special processing so that the smoke can be processed thoroughly. After processing, the water go into a water dedusting pool and will be clean after chemical reaction and then will be recycled for dedusting usage. So it is also without any water pollution.

Prev Λ Continuous pyrolysis plant NEXT ν Continuous waste tire to oil pyrolysis plantt
If you wanna to get more details about Water pollution control in the working of waste tyre pyrolysis plant or the cost of related pyrolysis machine , you can send E-mail to market@doinggroup.com. You can consult our professional engineer and specialized sales team with leave a message in below form.We will contact with you ASAP.You also can visit our factory in Henan,China.Get Detailed address.