The flow chart of tires pyrolysis equipment for 10T
Date:2013-06-20 17:51:50 / Pyrolysis Plant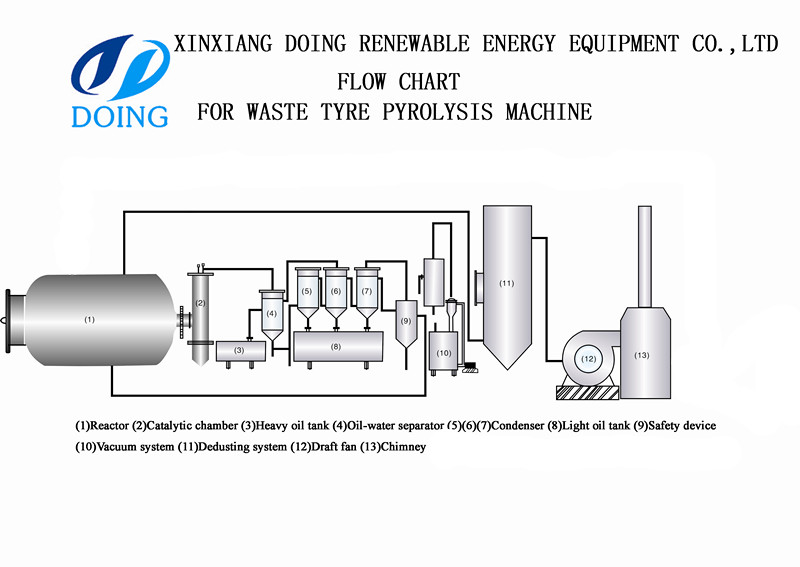 The flow chart of tires pyrolysis equipment for 10T
Type:DY-1-10
Processing Capacity:10T tires/24h
Reactor Size:D2600mm*L6600mm

The whole tire pyrolysis system composite by 11 parts, those are reactor ,driving device ,vertical catalytic chamber,cooling tube,oil and water separator ,condenser ,heavy oil tank ,light oil tank , anti-back fire device vacuum system and dedusting device.

Reactor
1. Made by special boiler plate Q345R&Q245R. Security and long service life.
2. The reactor is supported in a centre line by rollers. It will remain stable while running.
3. Auto-welding, both inside and outside.
4. Made by rock wool insulation board. Save fuel and ensure heating effect.
5. Compound door, big door diameter is 1200mm/1400mm, small door diameter is 720mm, with big door when feeding the whole tire, small door feeding plactic, multfuncton and many choice.
Transmission method: gear transmission.
The gear is seperated from reactor, instead of welding on reactor. So it avoid deformation after being heated for a long time. even it is broken only ned change the gear, the maitenance cost is low.
Double catalyst chamber
1. Improve the oil yield and oil quality.
2. Impurity of oil gas will be collected here.
3. Reduce the speed of oil gas so that it will be better cooled.
oil water separater
1. Water from raw material will be separated here.
2. Water sealing design prevent tampering. Ensure safety.
3. Heavy oil will be collect to heavy oil tank
The main charater :
Safety:
1. reactor with auto welding to quarrantee the quality of welding seam and avoid cracking
2. professional heating treatment and x-ray detection chamber for welding seam .
3. vacuum system to prevent oil gas be back to reactor causing accident.
4. with temprature meter ,pressure meter and safety valve.
Environment friendly:
1.dedusting system to prevent gas and dust from coal burning
2.the exhaust gas will be recycled for heating reactor ,no gas pollution
3.well sealing on every junction parts to prevent gas leak,no smelly
Longer life :
use Q245R special steel plate ,thickness 14mm. welding seam with auto welding and will get heating treatment and x-ray detection to extend the life of reactor to the most extend.
the life will be 6-8 years
Energy saving:
1. well sealing for heating system ,no gas leak and saving fuel.
2. the exhaust gas will be recycled for reactor heating .