How much the copper wire granulator price?
Date:2015-10-28 11:32:18 / Copper wire recycling machine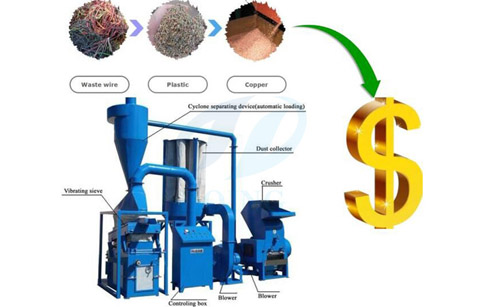 Copper wire granulator machine

Different capacity of copper granulator have different cost. And also different desgins of copper granulators have different cost. For example, the new design of copper granulator machine with 100kg-200kg capacity, it is about 10000 USD. But if you want to save some cost, our engineer also can design the most efficient machine solutions for you. To caculate detailed cost for your referrence , please contact our team.

Copper wire granulator machine is a kind of machinery main used to all kinds of waste copper line will be separated into tiny copper rice and PVC, the applicable range of Φ waste line diameter of 0.3 mm to Φ 20 mm, such as Automobile electric wire, Motorcycle electric wire,Computer wire ,Telephone wire and other various miscellaneous material.

The successful development of copper wire granulator machine greatly solves the pollution caused by burning scrapwires.
Copper wire recycling machine is an indispensable environmentally friendly machine,It will turn the waste into fortune and create huge profit for you.



Save