Machinet for Recycling Computer Wire by copper wire recycling machine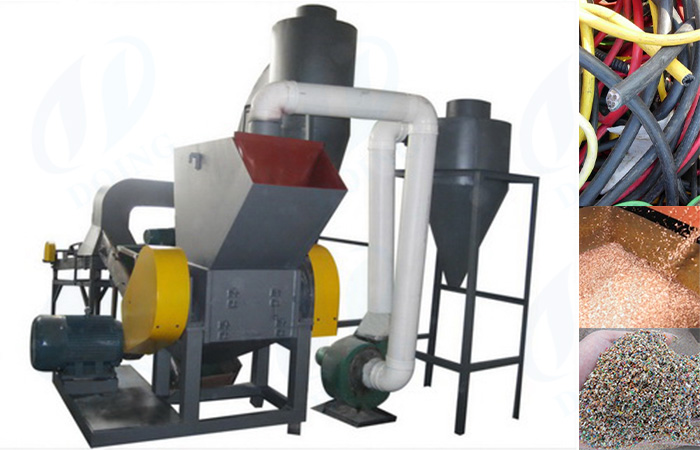 Copper wire recycling machine
A small bundle of computer wires can be stripped by wire strippers. But how about large scale of computer wires? Copper wire recycling machine is not efficient then. Copper wire recycling machine can separate the insulation cover from the copper core of computer wire and finally get the pure copper granule. It is an ideal machine for the recycling of wires with the diameter less than 20mm.
Cable wire recycling machine is a kind of machinery main used to all kinds of waste copper line will be separated into tiny copper rice and PVC, the applicable range of Φ waste line diameter of 0.3 mm to Φ 20 mm, such as Automobile electric wire, Motorcycle electric wire,Computer wire ,Telephone wire and other various miscellaneous material.
The successful development of Copper wire recycling machine greatly solves the pollution caused by burning scrap wires.
Copper wire recycling machine is an indispensable environmentally friendly machine,It will turn the waste into fortune and create huge profit for you.
Prev Λ Aluminum composite panel recycling machine NEXT ν Aluminum plastic recycling machine
If you wanna to get more details about Machinet for Recycling Computer Wire by copper wire recycling machine you can send E-mail to market@doinggroup.com. You can consult our professional engineer and specialized sales team with leave a message in below form.We will contact with you ASAP.You also can visit our factory in Henan,China.Get Detailed address.