Working process of copper wire recycling machine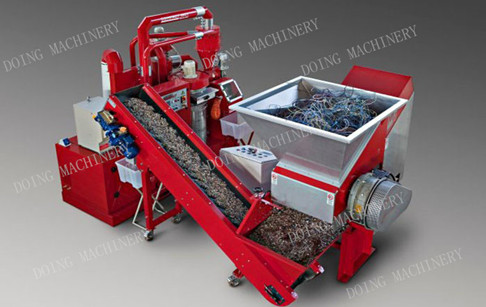 copper wire recycling machine

Our copper wire recycling machine is mainly used to make the double recycling use of metals and plastics from scrap cables, wires and PCB boards. Firstly, the copper wire recycling machine through crude crushing to extract the iron materials, then through fine crushing to separate the metal and plastic mixture. Since the plastic and metal granules are mixing together after crushing, but the weight has big difference, they are easy to be separated by the gravity separator. But the plastics after separated by the gravity separator is not completely clean, may have about 2-5% small copper wire or powder inside. Then use the electrostatic separator can extract the rest and small copper wire or powder out to get pure plastic and copper metal. This way it highly increases the recycle use value of the plastics and metals.

copper wrie recycling machine flow chart

Prev Λ The Classification of the Scrap Copper Granulator Machine NEXT ν PCB Recycling Machine
If you wanna to get more details about Working process of copper wire recycling machine you can send E-mail to market@doinggroup.com. You can consult our professional engineer and specialized sales team with leave a message in below form.We will contact with you ASAP.You also can visit our factory in Henan,China.Get Detailed address.