Advantages of DOING copper wire recycling machine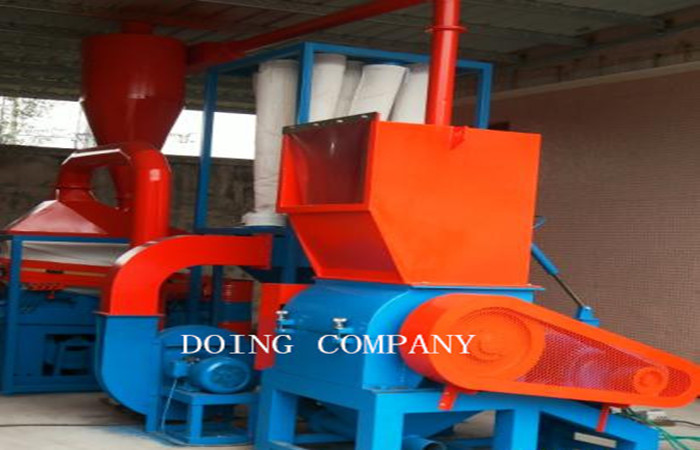 copper wire recycling machine
Our copper wire recycling machine adopts unique design, it can not only process copper wire, cable wire and any other electrical wires, and it can also recycle the aluminum wire and PCB to make the metal and plastic separation.
Except this, our copper wire recycling machine also has many other advantages as below:
♦ Environment friendly - Our copper wire recycling machine is kind of environmental protection equipment, which improved the traditional fire burning and water washing methods which are not good for the environment. For our copper wire recycling machine, there are not waste water, waste smoke and dust pollution during the whole process.
♦ High automation - Our copper wire recycling machine only needs 1-2 workers to operate. After feeding the waste wires, the copper and plastics will be discharged automatically. The rotate and the feeding speed can be controlled by the transducer. The motors are all copper clad motors with national standard.
♦ High recovery rate - Our copper wire recycling machine equipped with electrostatic separator, the copper recovery rate can reach to above 99.7%. Normally we can make no plastics in the copper and no copper in the plastics.
♦ High benefit - The copper or aluminum metal made by our copper wire recycling machine are very pure and clean, which can be sold at 500-1000 RMB/ton higher than water washing and fire burning copper metals in the market. Because the copper or aluminum after water washing or fire burning is easy to oxidation and wastage.
♦ Durable in use - The crushers all use the hard and antiwear cutter, which is durable and long-lasting, thus to have a long usage life.
♦ Small land occupation - Our copper wire recycling machine has compact structure which requires small land size. And it's easy for disassembly and installation with convenient maintenance.

Prev Λ Cable granulator machine NEXT ν The Classification of the Scrap Copper Granulator Machine
If you wanna to get more details about Advantages of DOING copper wire recycling machine you can send E-mail to market@doinggroup.com. You can consult our professional engineer and specialized sales team with leave a message in below form.We will contact with you ASAP.You also can visit our factory in Henan,China.Get Detailed address.