DYHX30 silo grain dryer
Date:2015-08-10 11:20:29 / Oil Press Machine /Give me the price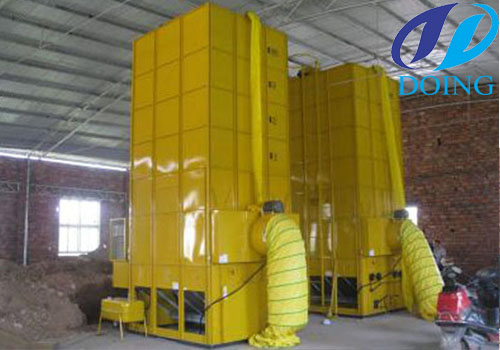 The selling grain drying machine
1.The Features of the Grain Dryer machine:
1). Grain Dryer is pre-installed with timing mode, auto mode and seeds mode for different crops drying requirements
2). Choose more thickness material (2mm steel) for the Grain dryer equipment, to ensure the Grain dryer safety and reliability.
3). According to the feature of large abrasion during grain drying, our machine using stainless steel auger instead of iron which on other factory products. Greatly improve the grain dryer whole service life, reduce machine maintenance costs.
4). Grain dryer using TAIWAN famous brand electric motor: Full sealed structure, dustproof, waterproof and oil (waste). Polymer resin insulation, incomparable endurance,also makes the grain dryer can be competent in harsh environments.
5). Jpanese Moisture meter on the grain dryer with high precision, the durable, low failure rate.
6). The transverse multi-slot drying part on the grain dryer machine is adopted with a thin valley and large drying area, which has a feature of high thermal efficiency and uniform heating,simple maintaining and fast cleaning effectively.
7). There are Touch screen and PLC control mode on the grain dryer machine,Convenient operation, high reliability of the system, Easy to debug and repairment.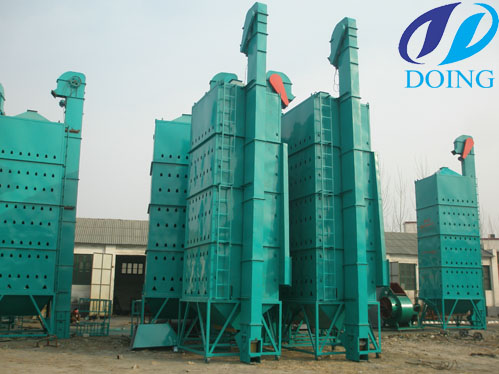 The installed grain drying machine
The Grain Dryer machine Operating principe:

Tower dryer is also called the grain dryers, grain drying machine is an ideal equipment for drying grain and oil, processed products from the top input, through the feeding device, to ensure that the equipment always in full load condition during operation. After turning inward bottomless v-shaped flap and processing with staggered joint action of multiple rows of "V" baffle, makes possible the mix of processed products, but also as dry air in and out of the channel, the fan will be used gas into the collector, purification, most of the dry air can be recycled, so save the fuel consumption.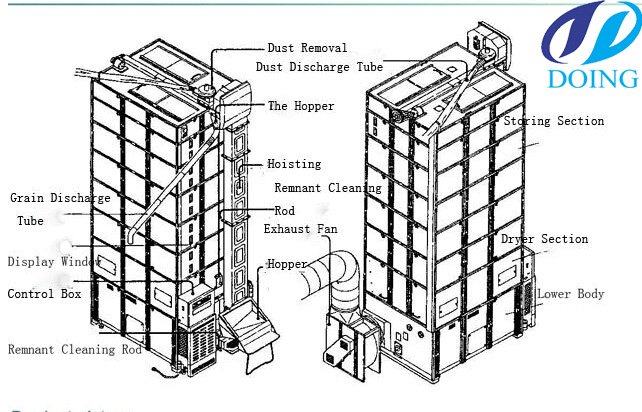 The structure of grain dryer
Technical parameters of small scalestationary dryer:
model

DYHX30

DYHX50

DYHX100

DYHX150

capacity

30

50

100

150

Heat rate

0.15-0.6

0.25-0.6

0.5-1.2

0.75-1.8

Size

4*2.5

4*2.5

4*2.5

4*2.5

height

5-7

6-8

7-12

9-15

Reduction of moisture

3%-10%

Heating medium

clean air
Raw materials of grain drying machine: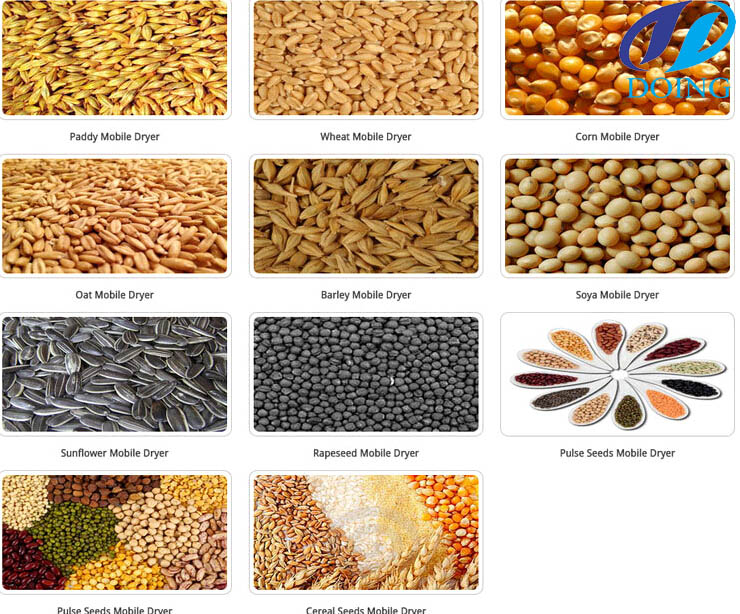 Raw materials of grain drying machine