One tire recycling machine was installed in Mexico
Last year we just installed another tire recyclingmachine in Mexico again. This Mexican customer came to our factory forinvestigation in 2013. Then we took him to our factory, and showed our demomachine and the machine production for him. After his visiting, he was veryexcited and satisfied. He said he would go back home for market research andprepare everything to launch this project soon.
Few months later, when our boss visitedMexico, he and his partners had a meeting with our boss. Our boss introducedthem to visit our customers' factory which already had our tire recyclingmachines running there. After their visiting, his partners were also verysatisfied with our machine, then directly signed the contract with our boss forbuying one set tire recycling machine from us.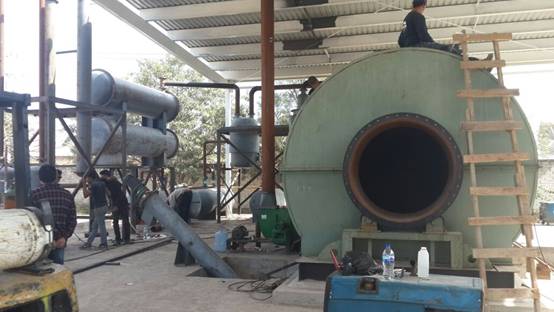 Installing the tire machine
Now his tire recycling machine has finishedinstallation, is going to run successfully. The same engineer who justinstalled the machine for him will go to Jamaica and Panama for theinstallation of our tire recycling machines there.
Prev Λ The end NEXT ν Successful installation case of tyre/plastic pyrolysis plant
If you wanna to get more details about One tire recycling machine was installed in Mexico or the cost of related pyrolysis machine , you can send E-mail to market@doinggroup.com. You can consult our professional engineer and specialized sales team with leave a message in below form.We will contact with you ASAP.You also can visit our factory in Henan,China.Get Detailed address.