All oilseed press
Date:2015-03-04 18:06:59 / Cooking oil machine FAQ
An oilseed press is the heart of an oilseed pressing operation. This fact sheet focuses on small oilseed presses used for edible oil production or for producing oil for fuel or bio- diesel production. Oilseed presses separate oilseeds such as sunflowers, canola, and soybeans into oil and oilseed meal. Pumpkin or grape seeds and brazil nuts are examples of materials that are less known and can be pressed for their oil in these machines.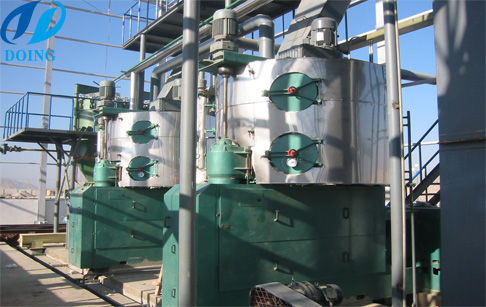 Oilseed press machine
Oil from the press is raw oil, and is used either as a food product or as an industrial product. Food products include raw oil in dressings or alone, pan frying applications, or in deep fat frying. Soybean oil (usually called "vegetable oil"), corn oil, sunflower oil, canola oil, peanut oil, olive oil, and sunflower oil are the most com- mon. This large range of oils points to the flexibility necessary in an oilseed press if it is to be used to press oil from a wide variety of seeds and nuts. Some presses offer more flexi- bility than others, so examine care- fully the claims of the press manufac- turer before purchasing a press for a particular purpose. If possible, conversations with others who have used a particular press will be valuable.


Vegetable oils typically found in the marketplace are RBD oils. This means that the oils have been Refined, Bleached and Deodorized after the initial removal from the oilseed. A separate factsheet describes these terms and the prodedures that may be used for each process. For a small oil producer, some of these processes may be useful to incorporate into the oil production line and others may be outside the scope of the operation.