Cold pressed oils and their usages
Date:2015-03-03 17:02:39 / Cooking oil machine FAQ
For many generation cold pressed oils have been extracted from high-fat oilseeds,and have been used for preparing meald and as remedies. Since several years, in fact of increasing ecological damage and of limited mineral oil resources, these oils are also used in the fields of technology.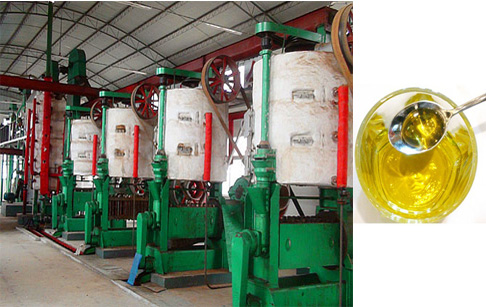 Cold oil press machine

Vegetable oil is triditionally used as a natural raw material to linoleum, paint, lacquers, cosmetics and washing powder additives. In the technical range there is a growing market in the field of lubricant (chain saw oil, gear oil, motor oil), hydraulic oils and special applications (e.g. oil for corrosion protection or formwork and parting agents for concrete). Advantages compared with fossil oil products are a much faster breakdown in the soil and no water endangerment with the same performance.
The energetic use of pure plant oil in motors (co-generation, diesel car enfines) is an option to replace fossil fuels. Nowadays the technique is tested and well established. Pure plant oil-fuel has the advantages of a low sulphur content and safer handling. Using cold pressed plant oil instead of fossil diesel, there is a reduction in production of the green house gas CO2. When considering the combustion, then plant oil is CO2-neutral, because plant again consume the whole quantity of CO2 emission. So the green house gas runs a closed circle. When the whole process for the rape plant products is considered, the significant energy production from the rape straw gives a positive energy balance in the production of rape seed cake and rape seed oil. This means that the process leads to a reduction in CO2 emission.
Everybody is able to produce his own fuel. The cold-pressing process does not require complicated machinery. The vharacteristics of this process are low energy requirement without any use of chemical extractive agents. These oil extraction machines are in continuous operation and do not require any special supervision.
Decentralised production of cold pressed vegetable oil creats valuable animal feed in the form of press cake. The protein-rich cakes can partly replace inported soya bean meal and thus reduce import dependency and risks for genetically modified soya bean fodder. The local economy is stimulated.