Introduction of vegetable oils
Date:2015-02-26 17:46:49 / Cooking oil machine FAQ
Vegetable oils have been part of human life for millennia. These vegetable oils are extracted from different types of oil seeds and are used for culinary use, for industrial usage and for many other purposes as well. Vegetable oils can be classified in terms of their source and usage. Most of the vegetable oils are obtained from fruits or seeds of plants and these can be classified as nut oils. Moreover, different types of vegetable oils are used in cosmetics, cooking, for fuel, etc. Thus different types of vegetable oil seeds are used by oil industries for the production of various kinds of vegetable oils, cooking oils, edible oils, massage oil, etc. across the world.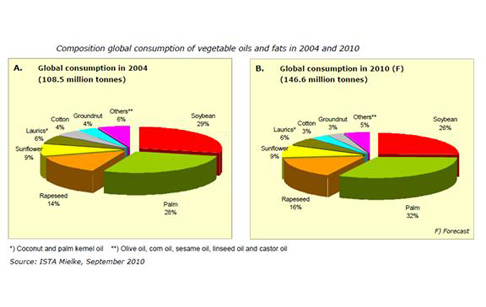 Introduction of vegetable oil

In wet oil extraction methods water is used to extract oil from oilseeds. The distinction should be made between wet methods and water-assisted methods of oil extraction. Wet extraction methods involve the use of a relatively large amount of water so that the oilseed is suspended in the water and the extracted oil floats on the surface.

Water-assisted methods involve the addition of a small quantity of water to the oilseed before the oil is extracted by manual kneading. These methods are discussed later. They are not classified as wet methods because all the water used is absorbed by the oilseed and no separate water layer is apparent.

The hot water flotation (HOOF) method of Edible Oil Extraction is traditionally used in the rural areas of many developing countries. Usually, decorticated oilseed is used. The oilseed kernels are heated and ground by pounding in a pestle and mortar. The ground seed is then suspended in boiling water and boiled for at least 30 min. Liberated oil floats to the surface. Further quantities of water are sometimes added after boiling to replace that lost by evaporation, and to encourage the oil to float to the surface. The oil is carefully scooped from the surface of the water using a shallow dish and is then heated over a fire to remove residual moisture.

The advantage of the HWF method over other small-scale oilseed processing techniques, such as those using expellers or ghanis, is its simplicity. The equipment required (pestle and mortar, boiling pans, etc.) is readily available. However, oil yields tend to be low and the process can be time consuming and arduous. This is especially true if traditional pestle and mortar methods are used to grind the oilseed kernel. If long boiling times are used, fuel consumption will also be high.

The above method may be applied to most oilseeds with varying degrees of success. Sources of oil, such as coconut and oil palm fruits, can be processed by traditional methods which make use of the water already present in the seed.
If you want to know more about edible oil mill machinery, please feel free to contact us.