How to choose right rice bran oil extraction machine ?
Date:2015-02-11 17:55:33 / Cooking oil machine FAQ
If you want to begin a small business about rice bran oil,please carefully consider the rice bran oil extraction machine.Do you know screw oil press?it is cheap and convenient,many people think if they buy one,they can begin the business of rice bran oil.I will tell you "NO",your thought is beautiful,but reality is cruel .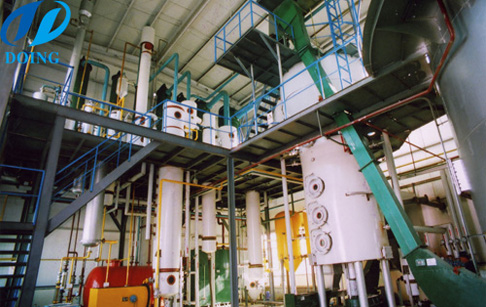 Rice bran oil extraction machine

The samll screw oil press can not process rice bran,maybe it can process most oilseeds and nuts,but it has limitation. If the oilcontent of oilseeds is above 30%,you can use it process them, but oilcontent of rice bran is only 18%,and rice bran is a special oilseeds,before expellerin oil,rice bran need special handling.Only by the small machines,you can not get any rice bran oil.So if someone tell you their screw oil press ,automatic oil expeller or press-filter automatic oil mill can process rice bran, never believe it please. They don't even have any sense of responsibility.
If you want to do business on rice bran oil,it needs a rice bran oil production line. it includes:cleaning---softening and conditioning---rice bran expanding---pre-pressing---solvent extraction---refining.It is a large or middle oil plant,only so,you can get rice bran oil and first level edible rice bran oil. Due to this, rice bran oil extraction technology is Continuous improvemed these years, if it can solve by a screw oil press,many R&D people work doesn't matter then. Rice bran expanding and rice bran oil extraction are the most advanced process technology at present. They are our patent product.
This is Henan Doing Mechanical Equipment Co,. Ltd. We can offer whole line of rice bran oil extraction machine with turnkey service. If you want to know more about rice bran oil extraction machine, please feel free to contact us.