Plastic Pyrolysis Oil
In the USA, plastic waste approximately 31 million of tons was generated in 2010 which is about 17.45% of total waste by weight. The percentage of the plastic waste is also similar in Thailand and around the world. As known that plastic is a non- degradable petroleum based product. The old landfill area is found that degradable product is composted, be- come soil while plastic is still exist. This problem is solved by converting waste plastic to energy by pyrolysis process.
As the petroleum based plastic is the polymeric material, the plastic pyrolysis process is the thermal de-polymerization process in the absence of oxygen which is able to convert plastic into gasoline-range hydrocarbons. The waste plastic used in pyrolysis process is needed to be sorted and cleaned. The Polyethylene (PE) and Polypropylene (PP) which are the main component of the plastic in municipal solid waste are used in the process in order to prevent the contamination of chlorine in the oil. The classified waste plastic is processed from an autoclave pyrolysis reactor. In general, product yields from pyrolysis are varied with temperature. The plastic pyrolysis oil used in this research is processed at 300-500°C at atmospheric pressure for 3 hours. The product output consists of 60-80% pyrolysis oil, 5-10% residue and the rest is pyrolysis gas on weight basis. The plastic pyrolysis oil used in this research is processed from a commercial waste plastic pyrolysis plant in Thailand.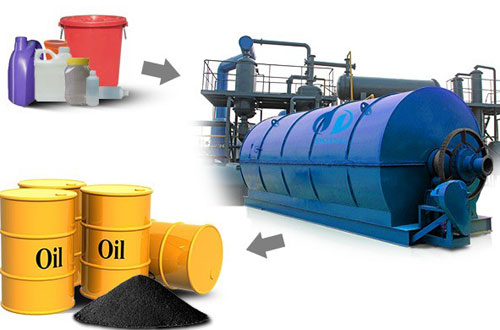 Waste plastic pyrolysis plant



Prev Λ Global Energy Chemicals and Oil Market from waste plastic - Recovery & Technologies - 2014 - 2020 NEXT ν Turning plastic into new products and energy
If you wanna to get more details about Plastic Pyrolysis Oil or the cost of related pyrolysis machine , you can send E-mail to market@doinggroup.com. You can consult our professional engineer and specialized sales team with leave a message in below form.We will contact with you ASAP.You also can visit our factory in Henan,China.Get Detailed address.