What is Pyrolysis plant running process?
Pyrolysis plant can disposal waste tyres and waste plastic to fuel oil, Fuel oil can be using as heating material to cement factory, glass making factory, brick factory etc.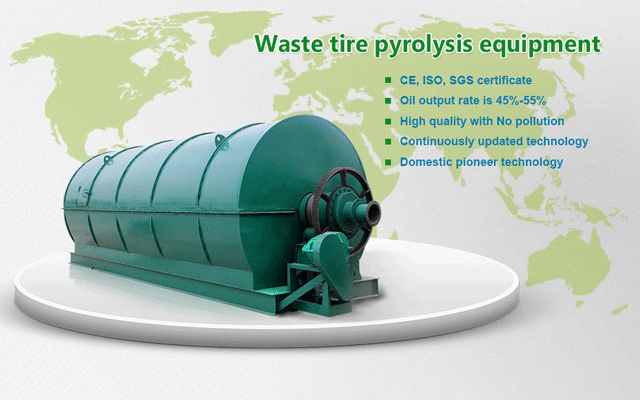 pyrolysis plant

Pyrolysis plant running process:
1st step - feed used tires (or plastic, rubber) into reactor. If you feed 10ton raw materials, it needs about 2-3 hours by auto-feeder.
2nd step - start heating. You can use wood, coal, oil or gas to heat thereactor.
3rd step - being heated, waste tires (or plastic, rubber) is becoming oil gasby pyrolysis. About 3 hours later, oil gas comes out.
4th step - oil gas goes into accessories and being cooled by condensers.
5th step - after being cooled, it becomes oil and will be collected by oiltanks. The oil producing process lasts about 10 hours.
6th step - about 8-10% residual gas produced from pyrolysis can not be cooled.But don't worry, it won't be wasted. We recycle these gas into furnace forheating purpose to support pyrolysis.
7th step - and of caurse, the flue gas produced by burning fuels is processedby dust removal device before emission.
8th step - when the oil producing process is finished, you give pyrolysismachine 2 hours to be cooled. Then you can start dischargging carbon black leftinside reactor (and steel wire if you feed whole tires). The time fordischarging is about 3 hours.

Prev Λ What's the financial analysis from scrap tyre pyrolysis plant? NEXT ν What is pyrolysis meaning?
If you wanna to get more details about What is Pyrolysis plant running process? or the cost of related pyrolysis machine , you can send E-mail to market@doinggroup.com. You can consult our professional engineer and specialized sales team with leave a message in below form.We will contact with you ASAP.You also can visit our factory in Henan,China.Get Detailed address.