Technical parameter of Doing waste tyre recycling pyrolysis oil machine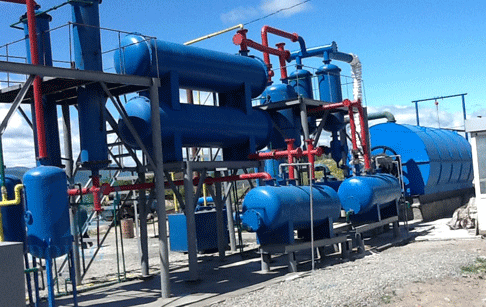 Doing waste tyre recycling pyrolysis oil machine
Doing waste tyre recycling pyrolysis oil machine is an industry that converts waste plastic & tires into Pyrolysis Oil, Carbon Black , Steel wire & FlammableGas.

Final products can be used as industrial fuel materials for producing heat, steam or electricity. Pyrolysis machine is also known as: pyrolysis equipment, plastic to fuel oil pyrolysis machine, tire to fuel oil pyrolysis machine, plastic and tire recycling unit etc.

Pyrolysis plant belongs to the following categories of industrial projects:
1. Waste to energy indutry
2. Waste plastic and tire pollution control equipment
3. Renewable energy equipment
4. Petrochemical machinery

We establish large scale waste tire & plastic pyrolysis plants. The total line supply includes of machinery designing, equipment manufacturing, installation,commissioning and operational training. We are the pioneer in establishing pyrolysis plants on turnkey basis.

Advantages of waste tyre recycling pyrolysis oil machine manufactured & supplied by DOING GROUP:
1. Purest quality of pyrolysis oil as final product
2. Adopt of advanced green technology to achieve Environment friendly processes
3. Both waste plastic & tire can be used as raw materials

Continuous automatic pyrolysis working process:
1. Breakthrough technologies used to improve security, profitability & ease of operation
2. More than 90% of machinery parts are non-moving thus reduces the recurring maintenance.
3. Self-sufficient energy industry
4.No external fuel material required for heating
The two keys of pyrolysis plant are reactor and cooling system:
Reactor directly decides the machine's safety and service life. It is made by welded steel plate. So the quality of welding will have a direct impact on safety and service life. Therefore, we use automatic welding machine, X rays detection and heating treatment which will not only guarantee the quality of welding but also greatly improve working efficiency.

For cooling systems, there are two steps. Cooling pipe is the first step. The second is condenser. We have three condensers. And there are 57 pipes in one condenser. Diameter is 48mm for one small pipe. The heat exchanging area is about 13square meters for one condenser. So the total cooling area is about 40 square meters, which will guarantee you a high oil yield.



Prev Λ Waste tyre pyrolysis plant NEXT ν 2013 hot sale waste tyre recycling pyrolysis oil machine
If you wanna to get more details about Technical parameter of Doing waste tyre recycling pyrolysis oil machine or the cost of related pyrolysis machine , you can send E-mail to market@doinggroup.com. You can consult our professional engineer and specialized sales team with leave a message in below form.We will contact with you ASAP.You also can visit our factory in Henan,China.Get Detailed address.