Plans for pyrolysis plantwill add to 'cocktail of pollution', warn campaigners
The proposed pyrolysis plant in Pembroke Dock will thermally treat oilysludge and filter cake generated by the oil refining industry - like that ofMurco in Milford Haven
Environmental campaigners sayplans for a facility to convert and recycle "residual product" generated by theoil refining industry will add to a "cocktail of pollutants" bombardingPembrokeshire residents.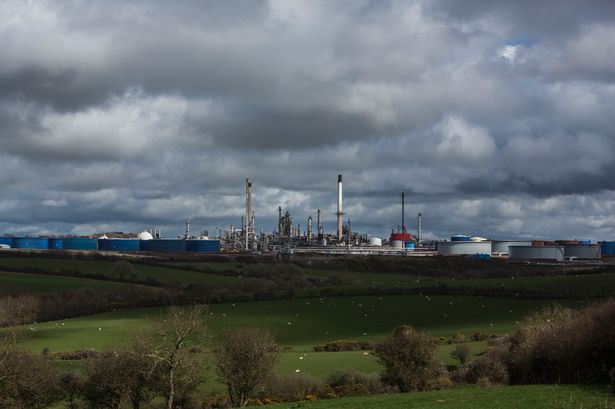 The planning application toconstruct a pyrolysis unit at Waterloo Industrial Estate in Pembroke Dock hasbeen submitted to Pembrokeshire Council.

According to planningdocuments, the process using pyrolysis – a thermochemical decomposition oforganic material – involves converting 'oily sludge and filter cake' generatedby the oil refining industry into gas to "generate low carbon electricity" forthe National Grid.

The plans include theconstruction of a 699sqm pyrolysis building, a 254sqm gas turbine building, agas storage silo and a 40m high stack. The facility could generate up to 6MWand create 12 full-time jobs.

But Pembrokeshire Friends ofthe Earth objects to the application because it says the plant is essentiallyan incinerator, which will generate 'more carbon dioxide per unit ofelectricity than coal power plants'.

The group's spokeswoman EleanorClegg said: "As I understand it, pyrolysis is essentially incineration. Thereare many reasons why we would not support this.

"The standards that are setfor incineration emissions do not take into consideration the cumulative andcocktail effect of different sources of pollution in the same area.

"Incinerators emit fine smokeparticulates known as PM 2.5, which can be absorbed straight into the blood.

"Recent research indicatesthat particulate air pollution is a significant factor in mortality, particularlyfor elderly people and people with cardiovascular ailments.

"It's a major factor in thesummer when of course Pembrokeshire is full of tourists. The nearest pollutionmonitoring station is 16 miles away in Narberth, but PM 2.5's are not monitoredthere."

Prev Λ Grasp Golden Opportunities As crude Oil Price Down NEXT ν Global Energy Chemicals and Oil Market from waste plastic - Recovery & Technologies - 2014 - 2020
If you wanna to get more details about Plans for pyrolysis plantwill add to 'cocktail of pollution', warn campaigners or the cost of related pyrolysis machine , you can send E-mail to market@doinggroup.com. You can consult our professional engineer and specialized sales team with leave a message in below form.We will contact with you ASAP.You also can visit our factory in Henan,China.Get Detailed address.