Waste tyre pyrolysis plant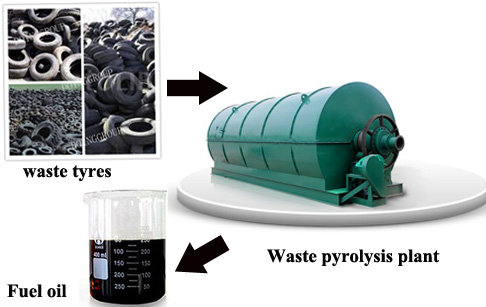 Waste tyre pyrolysis plant
DOING as a leading manufacture and offers the leading eco-friendly and cost-effective waste tyre pyrolysis plant with the world class design and technology. DOING has never stop to develop the pyrolysis plant and experienced a lot of researches and experiments. At the moment, DOING has already designed the waste tyre pyrolysis plant with lower cost and higher fuel oil output. The waste tyre pyrolysis plant combines the continuous and batch type pyrolysis plant. The continuous pyrolysis plant is to feed the raw materials, such as tyre and plastic, on one side and discharge the carbon black continuously from the other side. However, the batch type is to feed the plant with a batch of raw material and take the process and start the next process after cooling down the machine and discharging the carbon black. Both waste tyre pyrolysis plant in DOING is based on the green technology (Pyrolysis) to achieving the environmentally friendly process, which is the excellent waste tyre management solution for tyre recycling.

Function of Doing waste tyre pyrolysis plant convert waste tire/tyres or waste plastic into fuel and energy.
Raw material: waste tire/tyre, waste plastic, wsate rubber etc.
Final products: fuel oil, carbon black, steel wire and exhaust gas.
Working Process of Doing waste tyre pyrolysis plant: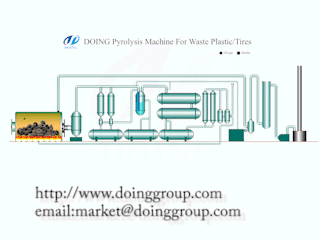 Working Process of aste tyre pyrolysis plant

Firstly, make reactor rotate clockwise 0.4r/min, put raw material into reactor, close feeding door.
Secondly, burned the fuel material (coal, or wood, or natural gas, oil ) in the furnace. Reactor will be slowly heated, when the temperature reach around 180℃, oil gas will come out, then go to cooling system and liquid to oil. Some incondensable gas which can't cool down will be lead to furnace through a gas pipe. It will be used to heat reactor. This can save your energy. Only the first 2 hours use energy for heating. After the first 2 hours mainly use gas, little energy is ok. After pyrolysis, all the oil gas come out from reactor, the temperature will fall down. Then make it rotate anticlockwise, carbon black discharging begin.Lastly, when the temperature deduce to 50℃, worker can opened the door of reactor take steel wire out.
Then can start the next batch.
The usage of final products:

Take one batch 10t waste tyre pyrolysis plant for example:
Total Output:1. Crude oil: 45%*10t=4.5t2. Carbon black: 35%*10t=3.5t3. Steel wire: 13%*10t=1.3t

The cost and income Index of waste tyre pyrolysis plant:
| | | |
| --- | --- | --- |
| No. | Item | Cost of Per Batch |
| 1 | 10 tons of waste tires | 10T×USD 236/T=USD 2360 |
| 2 | 0.4 tons of coal | 0.4T×USD 126/T=USD 50.4 |
| 3 | Water and electricity | 200×USD 0.16=USD 32 |
| 4 | Workers Salary | 4×USD 16=USD 64 |
| 5 | Total Cost | USD 2506.4 |
| | | |
| --- | --- | --- |
| NO. | Item | Income |
| 1 | Crude Oil | 10T×45%×USD 709=USD 3190.5 |
| 2 | Carbon Black | 10T×35%×USD 82=USD 287 |
| 3 | Steel Wire | 10T×13%×USD 34=USD 450 |
| 4 | Gross Profit | USD 3927.5 |
| 5 | Daily Net Profit | USD 3927.5-USD 2506.4=USD 1421.1 |
| 6 | Monthly Net Profit | USD 1421.1×25 days=USD 35527.5 |
| 7 | Yearly Net Profit | USD 35527.5×10 months=USD 355275 |
Prev Λ DOING tire recycling machine NEXT ν Technical parameter of Doing waste tyre recycling pyrolysis oil machine
If you wanna to get more details about Waste tyre pyrolysis plant or the cost of related pyrolysis machine , you can send E-mail to market@doinggroup.com. You can consult our professional engineer and specialized sales team with leave a message in below form.We will contact with you ASAP.You also can visit our factory in Henan,China.Get Detailed address.