Oil seed production globally caused panic in Indian edible oil industry
Date:2015-01-02 17:33:50 / News
According to industry sources, a request was made, whereby sector players asked for an increase in the import duty of crude edible oil to 10% (from the current 2.5%) and 25% for the refined product (from the present 10%).
The local industry also approached other government departments with this request. The domestic industry argued if this is not done, there's a possibility that imports of edible oil increase by 12% yearon-year to over 13 million tonnes next year, affecting farmers and refiners alike due to dumping into the Indian market.

Indian dependence on imported edible oil is 60% and the country is expected to import 11.3 million tonnes this year. Government officials looking into the matter said while they are considering the industry's request seriously, they're also evaluating the impact on consumers as edible oil price may become costly if import duties increase.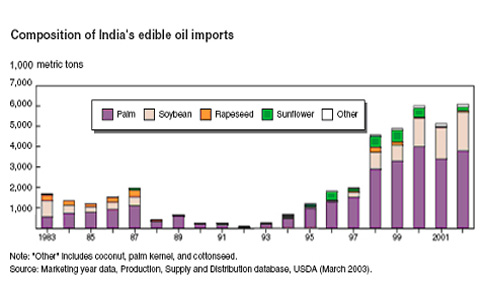 Indian edible oil import