Tire recycling machine
Date:2013-06-20 09:03:57 / Pyrolysis Plant
Tire recycling machine

DOING tire recycling machine, with the superiority of low capital investment and high fuel financial price, has become the first preferred waste disposal method in many countries. This profitable project was established in many countries with low labor costs and less environmental restriction worldwide. DOING GROUP from Henan , China installed more than one thousand highly sophisticated and advanted waste tire recycling machine, which are widely appreciated by customers owing to the various advantages and profits.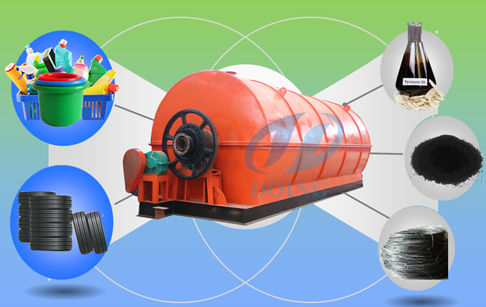 Tire recycling machine

Waste tire recycling machine pyrolysis process: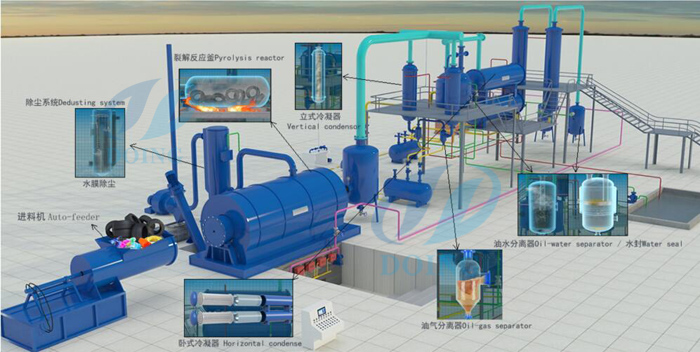 Tire recycling machine process tire to fuel oil
a. Use auto-feeder to feed the waste tires into reactor automatically, seal the feeding inlet door tightly.
b. Heat the reactor by burning the following fuel material: coal, wood, natural gas, or fuel oil in the combustion system. The reactor will be heated slowly, when the temperature reaches around 250 degree Celsius, the oil gas will be formed.
c. After processed by doing waste tire recycling pyrolysis machine, the oil gas will go to the cooling system to be liquefied. The gas which can not be liquefied under normal pressure will be designed to go back to combustion system through safety device instead of the fuel material to burn the reactor, which isenvironmental friendly and can save you much energy.
d. After finishing oil collecting, the temperature of reactor will be down, while, carbon black can be discharged automatically at the same time.
e. when the temperature falls down to 100 degree Celsius, workers can open the door of reactor to discharge the steel wire.
f. Start another batch working.


Technical parameter of tire recycling machine

 

Items

Contents

1

Equipment type

DY-1-6

DY-1-8

DY-1-10

2

Raw material

Waste tire

Waste tire

Waste tire

3

Structural form

Horizontal rotation

Horizontal rotation

Horizontal rotation

4

24-hour Capacity

6 ton

8 ton

10 ton

5

Oil yield

2.7-3.3ton

3.6 -4.4ton

4.5 -5.5ton

6

Operating pressure

Normal

Normal

Normal

7

Material of Reactor

Q245R

Q245R

Q245R

8

Thickness of Reactor

16mm

16mm

16mm

9

Rotate speed

0.4turn/minute

0.4turn/minute

0.4turn/minute

10

Total power

19KW

19KW

19KW

11

Mode of cooling

Water cooling

Water cooling

Water cooling

12

Cooling area

100sqm

100sqm

100sqm

13

Kind of transmission

Internal gear drive

Internal gear drive

Internal gear drive

14

Noise dB(A)

≤85

≤85

≤85

15

Size of Reactor(D×L)

2200×6000

2200×6600

2600×6600

16

Working form

Intermittent operation

Intermittent operation

Intermittent operation

17

Delivery time

20days

20days

20days

18

Weight

27T

30T

35T