What is plastic to oil machine features?
Date:2014-12-29 16:13:19 / Pyrolysis machine FAQ
Plastic to oil machine mainly disposal waste plastic to fuel oil and carbon black. Waste plastic has high oil yield average is about 85%( according to different type materials).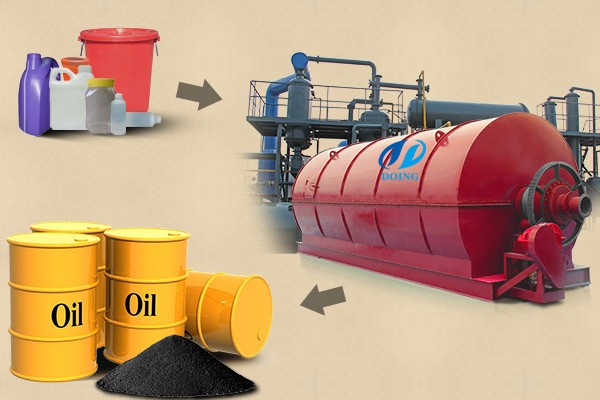 Plastic to oil machine

Plastic to oil machine features as below:

Safety:
1. Auto welding to improve working efficient, ensure machine quality,avoid accident.
2. Special design to avoid the jam with X-ray test,ensure safety running.

3. Vacuum system ensures the whole line working well.
Environmental protection:
1. Dust and sulfur removal system remove smoke and sulfur.

2. The exhaust gas (include methane to butane) will be directly recycled to furnace for fuel, no gas pollution.
High oil yield:
1. Three cooling processes ensure the oil gas liquefied sufficiently.
2. Catalyst chamber ensure the raw material pyrolysis totally.

Long service life:
1. Special boilerplate:Q245R with 16mm thickness.

2. Auto welding toensure the machine life, service life will be 8-10years.
Energy saving:
1. Well sealing for heating system, no gas leak and saving fuel.
2. The exhaust gas will be recycled for reactor heating.
Good After-sale service:
1. Overseaguide installation and training customers' worker and try running.
2. 1 year warranty.