Plastic to oil project report
With the rapid development of the economics, more and more plastics/tyres generated per day. What is more, the pollution generated by waste plastic is becoming more and more serious. In this era of more and more wastes, plastic to oil project meets the demand of the time to recycle energy and protect the environment in order to solve the problem of shorter and shorter of the energy and make our world green. Henan doing mechanical equipment co,ltd specialized in manufacturing waste plastic to oil plant for many years. We responsible to protect the environment and manufacture high quality plastic to oil pyrolysis plant.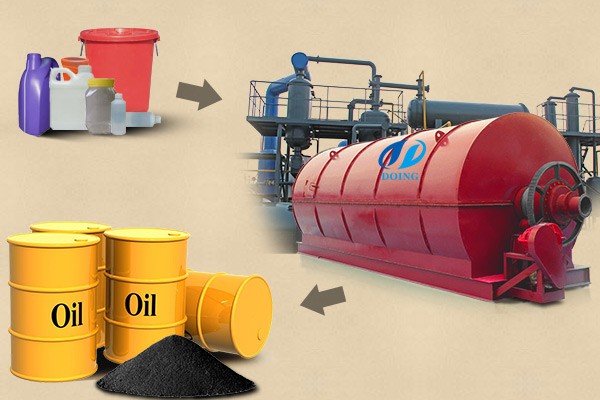 Plastic to oil project report 1: the necessary preparation of the customers:

1. The customers should have an area toinstall the pyrolysis plant.

2. Workers are necessary

3. Do research in the market to have abetter command of the profit

4. Our technician will support yourinstallation help train your works.your technicial 5.is necessary.

6. A foundation of the pyrolysis plant

7. Wait for the installation and profits aswell


Plastic to oil project report 3: Financial analysis:(Note:if your raw material is plastic,pls exchange below raw material cost)

Financial analysis of waste tyre to oil plant (10 tons capacity)

Cost for one batch

No.

Item

Cost of each batch

1

10 tons of waste plasitc


10T * USD 35/T = USD 350

2

0.4 tons of wood

0.4T * USD 70/T = USD 28

3

Electricity and water

244 kw/h*USD 0.26=USD 63.44

4

Workers

4* USD 15 = USD 60

5

Total cost

USD 501.44

Income for one batch

1

Crude oil

4.5 T*USD 700 = USD 3150

2

Steel wire

10T*18% * 350 USD/T= USD 630

3

Carbon black

?

4

Total income

USD 3780

Profit

1

Daily profit

USD 3278.56

2

Month profit

3278.56 * 25 days = USD 81964

3

Annual profit

USD 85714 * 10 months = USD 819640
Plastic to oil project

Prev Λ DOING waste pyrolysis plant features NEXT ν Waste oil distillation machine advantages
If you wanna to get more details about Plastic to oil project report or the cost of related pyrolysis machine , you can send E-mail to market@doinggroup.com. You can consult our professional engineer and specialized sales team with leave a message in below form.We will contact with you ASAP.You also can visit our factory in Henan,China.Get Detailed address.