jatropha seed oil used in biodiesel production
Date:2014-12-15 11:42:49 / Industry Trends
In the current investigation, it has confirmed that jatropha seed oil may be used as resource to obtain biodiesel. The experimental result shows that alkaline-catalyzed transesterification is a promising area of research for the production of biodiesel from jatropha seed oil.
Materials for use in the production of biodiesel from jatropha seed oil are readily available without the need for special equipment or scarce chemicals. Used jatropha seed oil from restaurant can be used. Iatropha seed oil from trees can also be used in the production of biodiesel.
On small scale production, the cost of production from jatropha seed oil is low, but if mass production and accuracy is the goal, the cost is high. Glycerin which is the by-product of the chemical reaction can be sold to the pharmaceutical companies, since it is used to produce valuables such as creams and toothpaste.
Effects of different parameters such as temperature, time, reactant ratio, and catalyst concentration on the biodiesel yield were analyzed. The best combination of the parameters was found as 8?:?1 molar ratio of methanol to oil, 1.0% KOH catalyst, 60°C reaction temperature and 60 minutes of reaction time.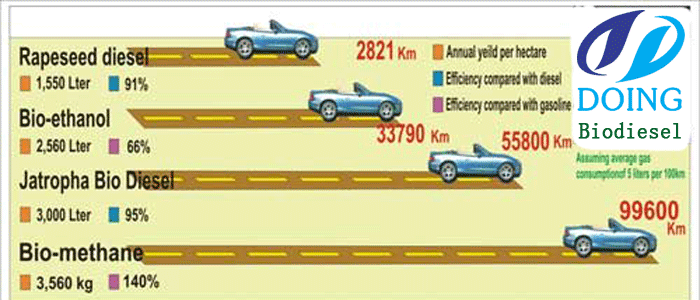 Jatropha seed oil used in biodiesel production


This optimum condition yielded 90% of biodiesel from jatropha seed oil. From the characterization of the biodiesel, the physical properties of biodiesel from jatropha seed oil with methanol were found to be within specified limits.
The viscosity of jatropha seed oil reduces substantially after transesterification and is comparable to diesel. Biodiesel characteristics like density and viscosity are comparable to that of the petrol diesel.