Waste tyres pyrolysis to oil, turn waste to energy
Everything in the world can be cycle, that is true. Like tires, raw materials from oil , who can thought the waste tires can be recycled to oil after broken or damaged?

With a rapid economic developing, car ownership is also growing, resulting in the replacement down the number of scrap tires is quite amazing, the global environment has been slowly forming a new pollution called " black pollution ". Characteristics of waste tires also decided, once the waste tires replacement,it can not continue to use, otherwise it will cause serious traffic accidents. therefore , scrap tires can be discarded as waste.So waste tyres pyrolysis to oil will be more and more popullar, Such a process can be avoid "black pollution" in a good way.

Energy issue has been the focus of world, since the original is a non-renewable resource , humans should study how to develop new energy sources, in order to substitute the original amount of the energy shortage problem. Resource harmless recycling is a more effective approach implemented within the current world-wide , both to ease the problem of shortage of resources , but also to solve environmental pollution pressure. Like refinery waste tyre pyrolysis to oil is one of the effective ways and used by most countries.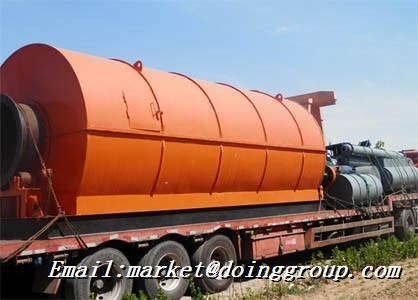 Waste tyre pyrolysis to oil plant

Prev Λ The disposal of waste tyres/scrap tyres NEXT ν waste motor oil recycling - new leading industry
If you wanna to get more details about Waste tyres pyrolysis to oil, turn waste to energy or the cost of related pyrolysis machine , you can send E-mail to market@doinggroup.com. You can consult our professional engineer and specialized sales team with leave a message in below form.We will contact with you ASAP.You also can visit our factory in Henan,China.Get Detailed address.